#justasknanan
I love and have lived in both Africa and South America, the two continents I offer services to. South Africa and Peru are my homes. I've also travelled extensively to Botswana, Zimbabwe, Tanzania, Kenya, Namibia and Mozambique, as well as to Chile, Bolivia, Brazil and Argentina. I am here to guide you through the process of creating the perfect holiday memory. Just ask me.
About Nanan Travel
Anybody can put a vacation package together. The digital world makes it easy to research flights, hotels and excursions. But the internet does not know you. All of the research in the world won't tell you what a new destination is really like based on what you really need. That is why we are in business. Our whole purpose is to make sure that you have a travel experience that you will never forget, without costing you your sanity, wasted time or life savings.
We don't do generic packages. We represent a number of top-shelf safari and tour operators. We've worked with them to create great travel deals for you and booking through us is cheaper than going to them directly. We are very focused on the countries we specialise in and know the lay of their lands intimately. You are at the centre of everything we do. Let us be your local travel expert; we will tailor everything to your exacting needs and give you the experience of a lifetime.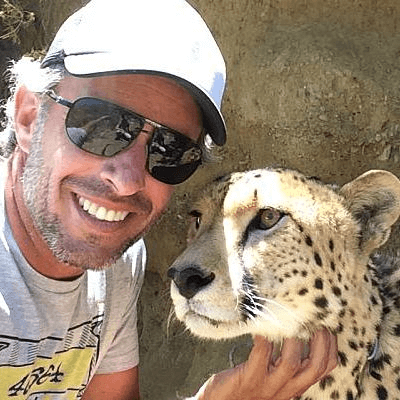 German de la Melena
I have always loved travelling. A few years ago, I put together a trip to Peru for a large group of friends from all over the world. It was for one of my milestone birthdays (and no, I'm not saying which milestone ). The vacation was one of the best travel experiences of my life. Based on the feedback, the same was true for my friends and they started asking me to arrange more travel jaunts for them to South America. Then travellers from Peru started asking me to put together their perfect holidays to Africa.
They told their friends, who approached me to do the same. I've always had hospitality in my veins. I've owned a restaurant and managed guest houses. I love this business. It made absolute sense that my next chapter must be a one-stop travel agency; to provide an all-inclusive travel service for people travelling to places I know and love. And that is how NananTravel came about.
Travel to Africa
There are so many destinations in Africa, from Kanya and Tanzania with the animal migration, Uganda or Rwanda with the majestic Gorillas to South Africa or Namibia, Mozambique or Zanzibar, Victoria Falls. Wherever your destination is? We will make sure you have the best travel experience.
Travel to Peru
Peru, is such an incredible country to visit, with so many options, Beach Holiday? Culture, history, Food, adventure? Tell us what your heart desires we will make it happen, Lima is the gastronomical capital of the world, machi Picchu is one of the seven wonders and we could go on…
What Makes Us Different
At Nanan, we know why you travel. Whether it be for vacation or work, relaxation or adventure, we make it our business to know what you want from your trip and to make sure you get exactly that, and more. That's why we work directly and personally with our travelers to understand your needs and put something together that is unique to you. We have intimate knowledge and experience of the amazing destinations we're sending you to and also know a lot about where you're from. Let our travel agency give you the experience of a lifetime.
Why Travel With Us
I love and have lived in both Africa and South America, the two continents I offer services to. South Africa and Peru are my homes. I've also travelled extensively to Botswana, Zimbabwe, Tanzania, Kenya, Namibia and Mozambique, as well as to Chile, Bolivia, Brazil and Argentina. I am here to guide you through the process of creating the perfect holiday memory. Just ask me.
Transport
How are you getting around? Is that your only option? Is it cheap? Cost-efficient? Have you considered whether it's the best use of your time? We know the places you're going to. And how easy or difficult it is to get around there. We also know what you're used to. Let us help you figure out how to get from point A to B to see all there is to see, effortlessly.
Restaurants
Our travellers love their food. New destinations mean new food discoveries. Every meal is an opportunity to delight yourself with new tastes and smells and experiences. Online reviews might tell you about others' experiences, but we know what you want and will get you to the right food hot-spot wherever you're going. No mess, no fuss, no bad restaurant choices.
Activities
You know where you want to go but what do you want to do once you're there? Sometimes the number of options are overwhelming. Sometimes time is so precious you need to do only the right things. Maybe you can't find excursions where you're going. Don't risk it. Whatever your needs, we're here to tailor-make your experience. #Justask
Accommodation
Before you do a city and date search on a hotel or travel advisor site, you need to know what you want from your lodging. What do you really need? Your hotel needs are our speciality. Your perfect accommodation is our mission. Because nobody wants to think they've found a "gem" at a "bargain price" only to arrive to something that just doesn't work.
German pulled together and incredible itinerary for us! His fantastic recommendations during our entire trip, great lodging, attention to detail, and personalized service made this a truly unforgettable vacation!
Rafael Balaguer
2023-01-26
There's a certain ease and excitement when you don't have to worry about the rest of your trip living up to an incredible yesterday, because today and tomorrow are going to be EVEN BETTER. That's what you can expect from a South African trip planned by Nanan Travel. Just when you think it can't get better, it does. German planned every detail, so we didn't have to worry about a thing. Excursions were varied and executed flawlessly. Transfers between properties were seamless and hassle-free. And check-ins were actually fun and some of my favorite moments. Our trip had a perfect pace of relaxation, sightseeing, adventure, and surprises. It took us off the beaten path (literally) one day and 10 feet from a lion's mouth the next. I arrived home after nearly 3 weeks with a full heart and memories I will never forget. Thank you, German, for helping to make my first time in South Africa so unforgettable.
We had an amazing experience using Nanan Travel for our recent family trip to South Africa. German was a pleasure to work with and went far above and beyond our expectations. German's recommendations for our two week trip were amazing, from the incredible accommodations we stayed at (shout out to the Royal Portfolio) and delicious restaurant recommendations, to the seamless transfer services and extremely fun excursions we went on. For my mother's birthday, German even planned for a safari photographer to join us on our safari drive! I would highly recommend using Nanan Travel if you're looking to have an amazing trip to Africa. Thanks again German!
Valentina Morris
2023-01-23
My husband and I recently returned from a week-long trip in Egypt all arranged by German. All we basically had to do was board the plane and disembark. German arranged every little detail. What a wonderful person to work with. If at all possible, we would like German to arrange every single trip that we go on. Thank you German - for your friendliness and utter professionalism. You have made our trip all the more memorable!!! Love you lots and we'll be in touch.
We had the most amazing trip! It was flawless, German at Nanan Travel did an excellent job of making our trip very special. Many thanks!
Nanan travel made this trip wonderful - lots of great memories were made. All the arrangements (flights, hotels, cars, restaurants ) went as planned..... to be precise everything exceeded my expectations. I really appreciated the team's patience, answering all my questions and giving me tips. I was hesitant about planning my trip with an agent as I am used to plan everything myself.. but this turned out to be the best decision especially for a place like South Africa that has so much to offer. I look forward to be back in SA and working with Nanan travel on future travel plans! Thank you everyone x
German set us up on a trip of a lifetime! An African safari has been on my bucket list for a long time, he made sure it was an unforgettable experience. We had a car service set up to/from the airport, stayed at an epic five star lodge on Kariega Game Reserve, and got to see beautiful animals up close on game rides. While in CapeTown he also hooked us up with the best recommendations for spots to visit and all of the must try food stops. If you go to South Africa, do yourself a favor and reach out to German!
Ernesta Swanepoel
2022-12-07
This was the second time that German from Nanan Travel arranged accommodation for us during our holidays. And every time he delivers ! German understands what it is that you are looking for in accommodation and he makes sure that you gets what you want. He is quick to respond and happy to answer all questions. We recently travelled to the Maldives and he patiently guided us through the 1000+ options until we found what we were looking for. The accommodation that he suggested exceeded our expectations. Everything went smoothly and all our transfers were arranged. Nanan Travel is the company to use when you want to have a picture perfect holiday !
My husband and I have always wanted to go on a safari and German made our bucket list trip top notch! There are so many safaris to chose from it can get overwhelming to plan it yourself, but German has extensive knowledge from visiting so many and the one he highly recommended to us was at Kariega Game Reserve. And oh my gosh, it was the most amazing experience my husband and I have ever had (and we have traveled a lot!) From the moment we left Capetown, German had set up everything even down to the private transfer we had to the lodge. This specific safari was full of so many different wild animals that made each game drive so exciting and full of activity. He was very quick to respond to any questions we had and checked in on us to make sure we were having a good time! Germans recommendation did not disappoint! Would definitely use German again for future endeavors and would recommend him to anyone!
Maria Isabel Armejo
2022-11-29
We had the best experience with our honeymoon trip. German booked our tours, pick up taxis and even our local flights. The trip exceeded our expectations and we had a lot of fun, and enjoyed each day, just like we wanted. Very lucky to find Nanan travel. Cant wait to book another trip with them. Thank you ❤️