#justasknanan
I love and have lived in both Africa and South America, the two continents I offer services to. South Africa and Peru are my homes. I've also travelled extensively to Botswana, Zimbabwe, Tanzania, Kenya, Namibia and Mozambique, as well as to Chile, Bolivia, Brazil and Argentina. I am here to guide you through the process of creating the perfect holiday memory. Just ask me.
About Nanan Travel
Anybody can put a vacation package together. The digital world makes it easy to research flights, hotels and excursions. But the internet does not know you. All of the research in the world won't tell you what a new destination is really like based on what you really need. That is why we are in business. Our whole purpose is to make sure that you have a travel experience that you will never forget, without costing you your sanity, wasted time or life savings.
We don't do generic packages. We represent a number of top-shelf safari and tour operators. We've worked with them to create great travel deals for you and booking through us is cheaper than going to them directly. We are very focused on the countries we specialise in and know the lay of their lands intimately. You are at the centre of everything we do. Let us be your local travel expert; we will tailor everything to your exacting needs and give you the experience of a lifetime.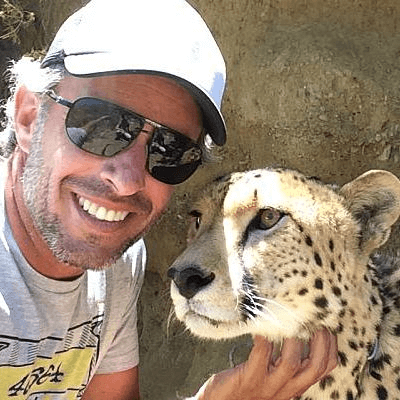 German de la Melena
I have always loved travelling. A few years ago, I put together a trip to Peru for a large group of friends from all over the world. It was for one of my milestone birthdays (and no, I'm not saying which milestone ). The vacation was one of the best travel experiences of my life. Based on the feedback, the same was true for my friends and they started asking me to arrange more travel jaunts for them to South America. Then travellers from Peru started asking me to put together their perfect holidays to Africa.
They told their friends, who approached me to do the same. I've always had hospitality in my veins. I've owned a restaurant and managed guest houses. I love this business. It made absolute sense that my next chapter must be a one-stop travel agency; to provide an all-inclusive travel service for people travelling to places I know and love. And that is how NananTravel came about.
Travel to Africa
There are so many destinations in Africa, from Kanya and Tanzania with the animal migration, Uganda or Rwanda with the majestic Gorillas to South Africa or Namibia, Mozambique or Zanzibar, Victoria Falls. Wherever your destination is? We will make sure you have the best travel experience.
Travel to Peru
Peru, is such an incredible country to visit, with so many options, Beach Holiday? Culture, history, Food, adventure? Tell us what your heart desires we will make it happen, Lima is the gastronomical capital of the world, machi Picchu is one of the seven wonders and we could go on…
What Makes Us Different
At Nanan, we know why you travel. Whether it be for vacation or work, relaxation or adventure, we make it our business to know what you want from your trip and to make sure you get exactly that, and more. That's why we work directly and personally with our travelers to understand your needs and put something together that is unique to you. We have intimate knowledge and experience of the amazing destinations we're sending you to and also know a lot about where you're from. Let our travel agency give you the experience of a lifetime.
Why Travel With Us
I love and have lived in both Africa and South America, the two continents I offer services to. South Africa and Peru are my homes. I've also travelled extensively to Botswana, Zimbabwe, Tanzania, Kenya, Namibia and Mozambique, as well as to Chile, Bolivia, Brazil and Argentina. I am here to guide you through the process of creating the perfect holiday memory. Just ask me.
Transport
How are you getting around? Is that your only option? Is it cheap? Cost-efficient? Have you considered whether it's the best use of your time? We know the places you're going to. And how easy or difficult it is to get around there. We also know what you're used to. Let us help you figure out how to get from point A to B to see all there is to see, effortlessly.
Restaurants
Our travellers love their food. New destinations mean new food discoveries. Every meal is an opportunity to delight yourself with new tastes and smells and experiences. Online reviews might tell you about others' experiences, but we know what you want and will get you to the right food hot-spot wherever you're going. No mess, no fuss, no bad restaurant choices.
Activities
You know where you want to go but what do you want to do once you're there? Sometimes the number of options are overwhelming. Sometimes time is so precious you need to do only the right things. Maybe you can't find excursions where you're going. Don't risk it. Whatever your needs, we're here to tailor-make your experience. #Justask
Accommodation
Before you do a city and date search on a hotel or travel advisor site, you need to know what you want from your lodging. What do you really need? Your hotel needs are our speciality. Your perfect accommodation is our mission. Because nobody wants to think they've found a "gem" at a "bargain price" only to arrive to something that just doesn't work.
Nunca habíamos viajado tan acompañados, ayudándonos en todo momento y haciendo de nuestras vacaciones algo muy especial. Todos estuvimos encantados con el gusto de Germán para escoger hoteles y planes para hacer. Sera uno de los viajes más especiales y muchas gracias por estar hasta nuestro destino, encargado de que todo fuera perfecto. Familia de Rhodes Lozano
Martin Worthington
2022-07-14
We booked a trip to South Africa with German in April of 2022. It was magical. German helped us pick a lodge for a safari in Sabie Sands as well as excellent recommendations on hotels and activities along the Garden Route. Thanks German for all your research and advice!
Garrett Carmichael
2022-06-24
Great experience and great recommendations across the board!
Carolina Cateriano
2022-06-22
our trip to south africa was wonderful. We planned it as part of our honeymoon and Germán, from Nanan Travel, made sure that everything was perfect. Always aware of all the details. Germán helped us choose the best hotels in all the cities we visited, making the experience complete. Thank you very much Nanan Travel for being part of this adventure. It has been amazing. Mateo & Carolina
Desde que pisamos el aeropuerto El Cairo pudimos disfrutar de un servicio de primera. Hicieron el trámite del visado por nosotros, nada de colas, transporte súper cómodo, todo de primera. En el hotel de El Cairo todo excelente y a diario teníamos el regalo de lujo de abrir la ventana de la habitación y ver frente a nosotros las pirámides de Giza. Fueron días en Egipto espectaculares. Y cerramos con broche de oro con las islas Seychelles, con las playas soñadas complementando todo con un hotel y servicio de lujo. Fue un viaje de ensueño 💚🍀 Gracias Nanan Travel y gracias German De la Melena. Hasta Pronto África!!
Adriana Alayza Avendaño
2022-06-12
German nos organizó nuestra luna de miel a Capetown, un safari en kruger y a la playa en Bazaruto, Mozambique y superó nuestras expectativas!!!! estuvo al tanto de nosotros todo el viaje, muy pendiente de como iba todo e incluso pudimos cenar un dia con él! Todas sus recomendaciones fueron extraordinarias, muy rapidamente pudo darse cuenta de nuestros gustos pues acertó en todos los hoteles, restaurantes y tours que nos organizó y recomendó! Sin dudarlo los proximos viajes que hagamos van a ser organizados por Nanan Travel, un exito total! Nuestra luna de miel fue el mejor viaje que hemos hecho y todo gracias a German! Regresaremos a Africa pronto!!!!
Celia Carrasco
2022-06-12
I have no words to express my gratittude with Germán. I found his name mentioned in a travel page with lots of recomendations. My husband and I considered ourselves as travelers. But we like to travel with facilities.. and Germán since minute one that we talked to him , catched our desires and also motivate us to experience with 2 countries that we haven't ever considered such as Zambia and Botswana. Needless to say that it was the most rewarding experience that we have ever had in our first time in the mysterious Africa. Germán was aware to all of our requirements and doubts. As i always said, he became the voice of our conscience😬. I highly recommend German as your travel planner. Top notch service 🙌. If you think in Africa think on Germán. He knows what is best for you. Celia and Eduardo from Lima/ Perú.
German loves his job and it shows. He's always reachable and knowledgeable. He provided us with great solutions for our trip to South Africa. I've already referred him to many friends who have also enjoyed his services.
Tricia De Mesquita
2022-05-26
German convinced me that traveling to South Africa for a solo trip would be fun. I took the risk and it was AMAZING! He even invited me out with his friends, showed me around town and was very involved. He advocated for me when I needed his help and his recommendations were superb. One of the best trips I have had and German was the reason I made such a bold trip on my own. I highly recommend using his services!