#justasknanan
I love and have lived in both Africa and South America, the two continents I offer services to. South Africa and Peru are my homes. I've also travelled extensively to Botswana, Zimbabwe, Tanzania, Kenya, Namibia and Mozambique, as well as to Chile, Bolivia, Brazil and Argentina. I am here to guide you through the process of creating the perfect holiday memory. Just ask me.
About Nanan Travel
Anybody can put a vacation package together. The digital world makes it easy to research flights, hotels and excursions. But the internet does not know you. All of the research in the world won't tell you what a new destination is really like based on what you really need. That is why we are in business. Our whole purpose is to make sure that you have a travel experience that you will never forget, without costing you your sanity, wasted time or life savings.
We don't do generic packages. We represent a number of top-shelf safari and tour operators. We've worked with them to create great travel deals for you and booking through us is cheaper than going to them directly. We are very focused on the countries we specialise in and know the lay of their lands intimately. You are at the centre of everything we do. Let us be your local travel expert; we will tailor everything to your exacting needs and give you the experience of a lifetime.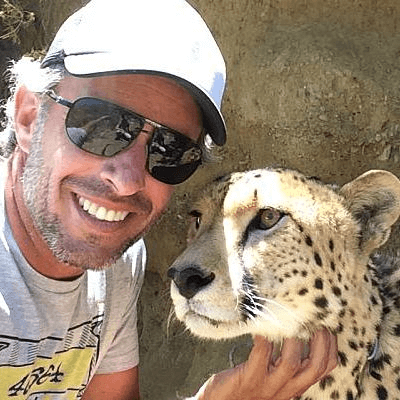 German de la Melena
I have always loved travelling. A few years ago, I put together a trip to Peru for a large group of friends from all over the world. It was for one of my milestone birthdays (and no, I'm not saying which milestone ). The vacation was one of the best travel experiences of my life. Based on the feedback, the same was true for my friends and they started asking me to arrange more travel jaunts for them to South America. Then travellers from Peru started asking me to put together their perfect holidays to Africa.
They told their friends, who approached me to do the same. I've always had hospitality in my veins. I've owned a restaurant and managed guest houses. I love this business. It made absolute sense that my next chapter must be a one-stop travel agency; to provide an all-inclusive travel service for people travelling to places I know and love. And that is how NananTravel came about.
Travel to Africa
There are so many destinations in Africa, from Kanya and Tanzania with the animal migration, Uganda or Rwanda with the majestic Gorillas to South Africa or Namibia, Mozambique or Zanzibar, Victoria Falls. Wherever your destination is? We will make sure you have the best travel experience.
Travel to Peru
Peru, is such an incredible country to visit, with so many options, Beach Holiday? Culture, history, Food, adventure? Tell us what your heart desires we will make it happen, Lima is the gastronomical capital of the world, machi Picchu is one of the seven wonders and we could go on…
What Makes Us Different
At Nanan, we know why you travel. Whether it be for vacation or work, relaxation or adventure, we make it our business to know what you want from your trip and to make sure you get exactly that, and more. That's why we work directly and personally with our travelers to understand your needs and put something together that is unique to you. We have intimate knowledge and experience of the amazing destinations we're sending you to and also know a lot about where you're from. Let our travel agency give you the experience of a lifetime.
Why Travel With Us
I love and have lived in both Africa and South America, the two continents I offer services to. South Africa and Peru are my homes. I've also travelled extensively to Botswana, Zimbabwe, Tanzania, Kenya, Namibia and Mozambique, as well as to Chile, Bolivia, Brazil and Argentina. I am here to guide you through the process of creating the perfect holiday memory. Just ask me.
Transport
How are you getting around? Is that your only option? Is it cheap? Cost-efficient? Have you considered whether it's the best use of your time? We know the places you're going to. And how easy or difficult it is to get around there. We also know what you're used to. Let us help you figure out how to get from point A to B to see all there is to see, effortlessly.
Restaurants
Our travellers love their food. New destinations mean new food discoveries. Every meal is an opportunity to delight yourself with new tastes and smells and experiences. Online reviews might tell you about others' experiences, but we know what you want and will get you to the right food hot-spot wherever you're going. No mess, no fuss, no bad restaurant choices.
Activities
You know where you want to go but what do you want to do once you're there? Sometimes the number of options are overwhelming. Sometimes time is so precious you need to do only the right things. Maybe you can't find excursions where you're going. Don't risk it. Whatever your needs, we're here to tailor-make your experience. #Justask
Accommodation
Before you do a city and date search on a hotel or travel advisor site, you need to know what you want from your lodging. What do you really need? Your hotel needs are our speciality. Your perfect accommodation is our mission. Because nobody wants to think they've found a "gem" at a "bargain price" only to arrive to something that just doesn't work.
Maria Isabel Armejo
2022-11-29
We had the best experience with our honeymoon trip. German booked our tours, pick up taxis and even our local flights. The trip exceeded our expectations and we had a lot of fun, and enjoyed each day, just like we wanted. Very lucky to find Nanan travel. Cant wait to book another trip with them. Thank you ❤️
Excellent Service! German went above and beyond making our arrangements. Very professional! Highly recommend.
Antonio Sánchez
2022-11-12
He tenido unas vacaciones espectaculares en Sudáfrica, el entorno, los hoteles, el personal y nuestra guía Alicia Maravillosa y el Organizador y Director Germán también de gran nivel para viajes de lujo, los 2 siempre pendientes de todo. Muchísimas gracias por estar con nosotros hasta en los mínimos detalles. Berny
Paola Izaguirre
2022-10-23
100% recomendado. Germán planeo con nosotros nuestro viaje a africa. Estuvo literal 24/7 durante todo el viaje, haciéndonos sentir seguros durante las 3 semanas que estuvimos en Africa. Los hoteles donde nos quedamos súper bonitos y súper bien ubicados, sus recomendaciones también súper! Definitivamente entendió lo que queríamos en este viaje. Los guías que nos puso todos con bastante conocimiento, muy buen inglés y amigables. Y en Capetown definitivamente Germán nos hizo sentir como locales y en casa! Ahora a planear africa parte 2 y con muchas ganas de volver a Cape Town! Thanks German!
Rachel Konforti
2022-10-21
German from Nanan Travel was amazing to work with! I found Nanan Travel on instagram when I was researching places to do our safari at. I had some questions before booking but he actually helped take over that process for me which was so helpful! Also, I never thought to work with a travel agent because I wouldve thought they charge us but turns out they dont and even more….they have discounted pricing to hotels I wouldve already booked at myself. So truly it is a win win situation for a traveler to work with Nanan Travel & I will definitely be using Nanan again. 🙂
Betina Menahem
2022-10-04
Gracias Germán por tu búsqueda, tu buena onda, tu paciencia y tu predisposición. Gracias a tus recomendaciones pasamos un hermoso fin de semana en un safari cerca de Port Elizabeth y tuvimos nuestra primera experiencia en un safari como familia. 100x100% recomendado!
Ernesta Swanepoel
2022-09-26
This was the second time that German from Nanan Travel arranged accommodation for us during our holidays. And every time he delivers ! German understands what it is that you are looking for in accommodation and he makes sure that you gets what you want. He is quick to respond and happy to answer all questions. We recently travelled to the Maldives and he patiently guided us through the 1000+ options until we found what we were looking for. The accommodation that he suggested exceeded our expectations. Everything went smoothly and all our transfers were arranged. Nanan Travel is the company to use when you want to have a picture perfect holiday !
Una experiencia alucinante todo el viaje a Sudafrica! Gracias German y a todo el equipo de Nanan Travel! El lodge de Kapama y los safaris fotográficos un éxito! Vimos a los big 5 y muchos más muy cerca! CapeTown también de maravilla! Una ciudad espectacular, el hotel 👍🏻👍🏻! La zona de viñedos también espectacular, un viaje recomendable para los amantes del vino! Clouds estate donde nos alojamos estuvo excelente! Y la Garden Route (si bien manejamos mucho por los pocos días) fue muy interesante, paisajes preciosos, actividades súper divertidas (caminatas, avistamiento de tiburones y ballenas, kayak en stormriver!…) Gracias por todo!
This is our second time traveling with Nanan Travel and it just keeps getting better and better !!! We are already dreaming , saving and planning for our third trip to Eastern Africa with German. . If you want to visit Africa please look no further and do it with Nanan Travel . German is super experienced , knowledgeable and caring and thanks to him we have fallen in love with this amazing continent . Can't wait to be back and discover new places. Thanks German . You are the best !!!
Daniela Abugattas
2022-08-25
We had the most amazing trip of our lives… the perfect honeymoon package: Safari + Zanzibar! German thought of every detail for our trip and his recommendations were spot on! The hospitality we experienced in every place went above our expectations in every sense!