Plan your holiday in Namibia with Nanan Travel
Namibia means "vast place" since it is characterized by having a great desert and savanna, in addition to the highest dunes in the world. Namibia has a large part of the protected African wild fauna, since this country is very concerned about the conservation of its species and the environment, so much so, that it has included these regulations in its political constitution.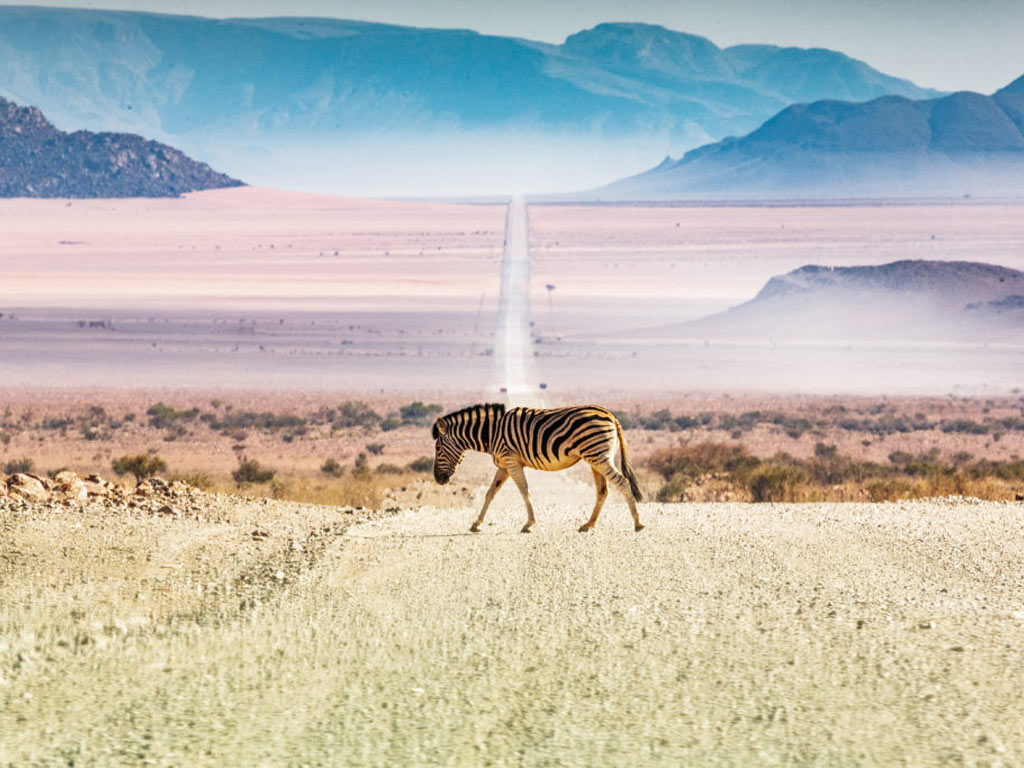 Information for your trip to Namibia
To travel to Namibia you need a tourist visa with which you can have a stay of 90 days maximum. However, there are more than 50 countries that do not need to apply for a visa to travel to Namibia.
It is mandatory to have a vaccination certificate against yellow fever if you are coming from countries with a risk of transmission of this disease. Antimalarial prophylaxis and vaccination against yellow fever are recommended if you are visiting northern Namibia, especially the Zambezi River region.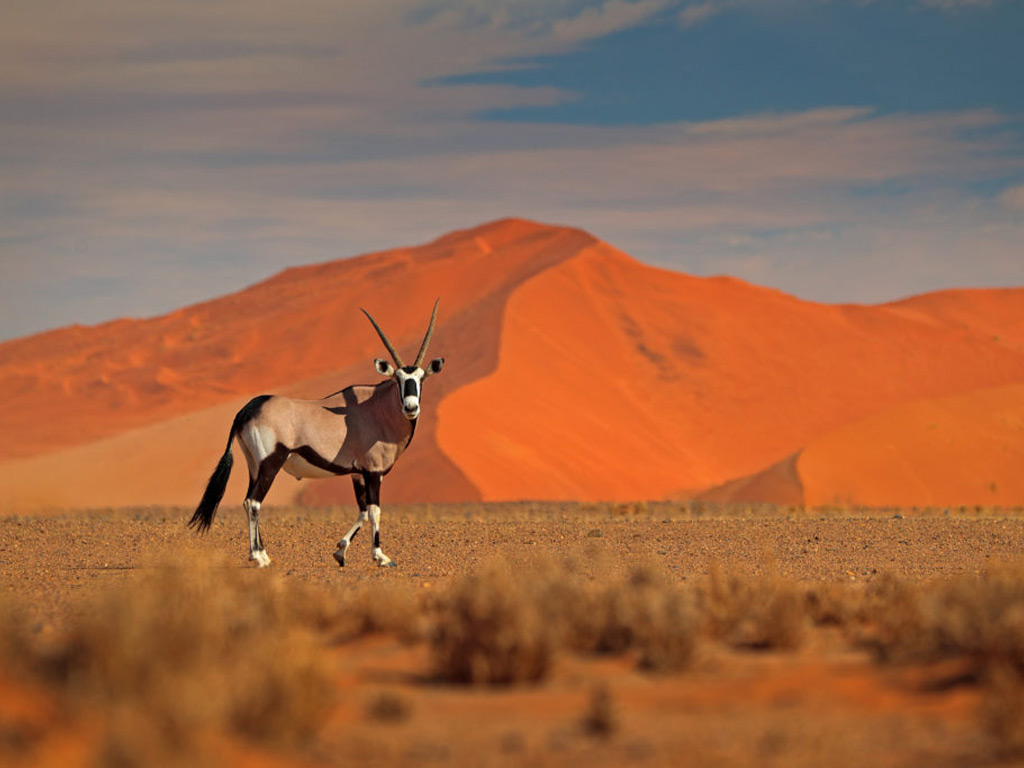 Is Namibia safe?
Namibia is one of the most stable countries in Southwest Africa and one of the safest in Africa. It is also a sparsely populated country, making it a very quiet and orderly place, which stands out for living in harmony with its wild fauna.
Of course, it is always recommended to take the safety recommendations and travel with experts in the tourism of this country.
What can we do while on tour in Namibia?
In Namibia, you can explore beautiful deserts, savannahs, dunes, and mysterious landscapes. In addition, you can also delight in its starry nights, where you can clearly visualize the constellations. You will meet one of the most complete wildlife in Africa, especially cheetahs (or cheetahs), and black rhinos, which have managed to maintain themselves thanks to their conservation policies.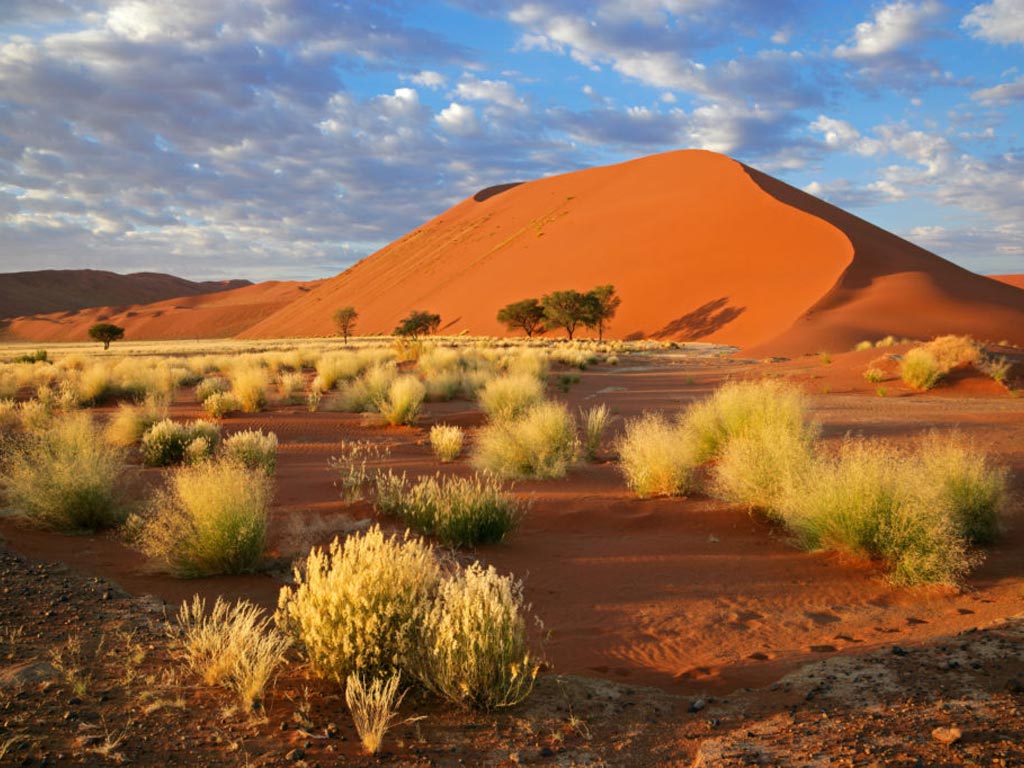 Know Namibia
Namibia is one of the countries with the least population in the world, that is why they have perfect harmony with wildlife. Its original name is Khoekhoe which means "vast place". Their culture has a mix of African and German traditions.
Namibia has 13 different ethnic groups, the most famous are the Himba and they are the only ones who maintain their ancient customs and traditions. The official language spoken in Namibia is English, but a large part of its population speaks Owambo. Other languages ​​spoken in Namibia are Afrikaans and German.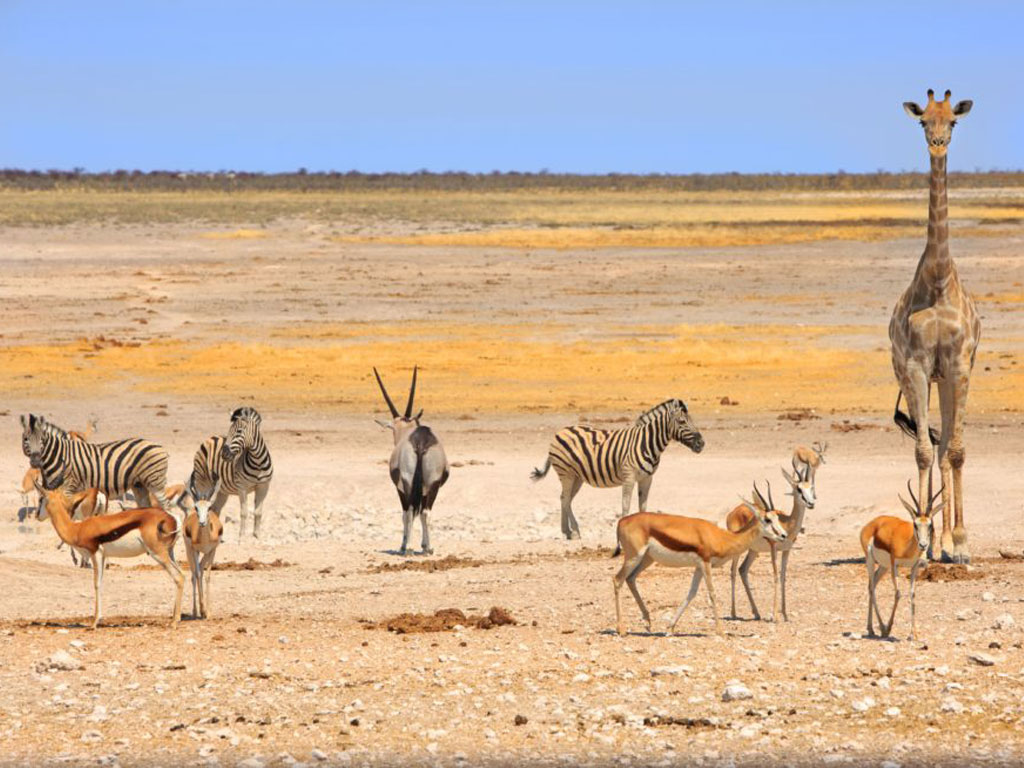 Safari in Namibia
One of its main national parks, for safaris in Namibia, is Etosha. It has 22,000 square km, where the largest population of black rhinos and cheetahs in Africa is found.
If you prefer a more intimate safari, you can visit the Mahango Reserve, a place where you can quietly and almost privately observe the wild fauna of the place, such as buffalo, elephants, hippos, among others.
If you like marine fauna, you can also take an excursion to Cape Cross in northern Namibia, where they will see an impressive sea lion reserve. It is one of the largest in the world.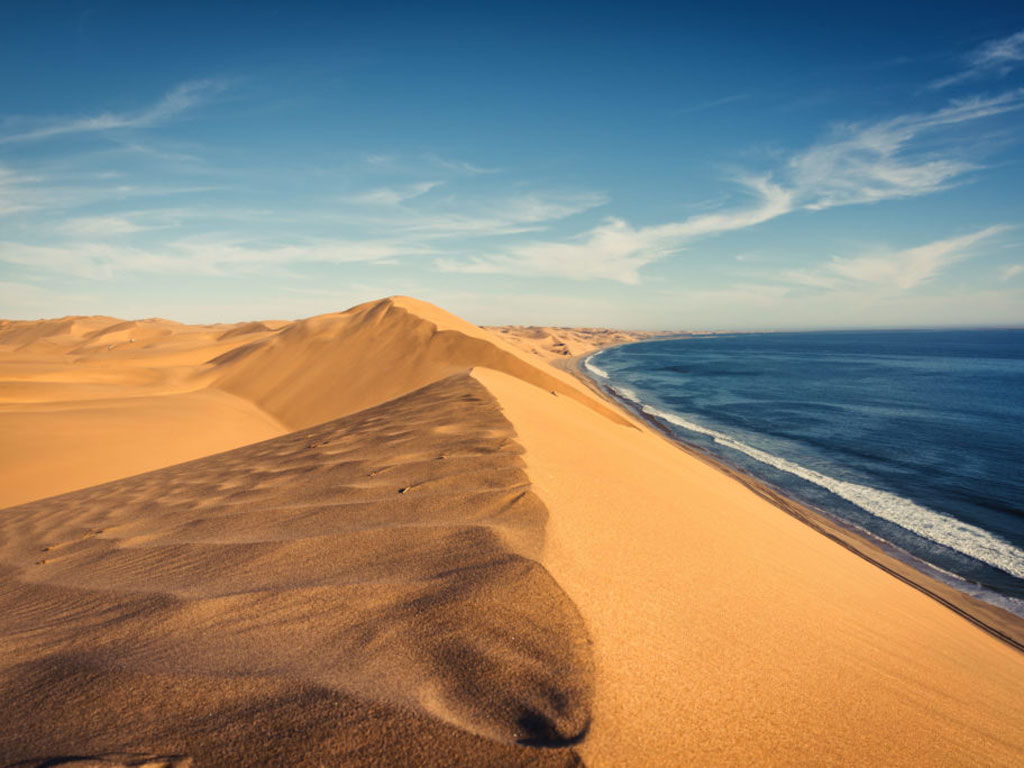 The Namibian desert
It is the oldest desert in the world, estimated to be 65 million years old, and is known for its reddish dunes. One of its most famous dunes is Duna 45 which is 145 meters high.
Sossusvlei, in the most touristic part of the Namibian desert, here you can meet two of the highest dunes in the world: Big Daddy 350 meters high and Big Mamma 400 meters high, you can climb its slopes. You will also get to know two dry lakes: Dead vlei and Sossusvlei, where you will see impressive trees that seem to be mummified, 700 years old.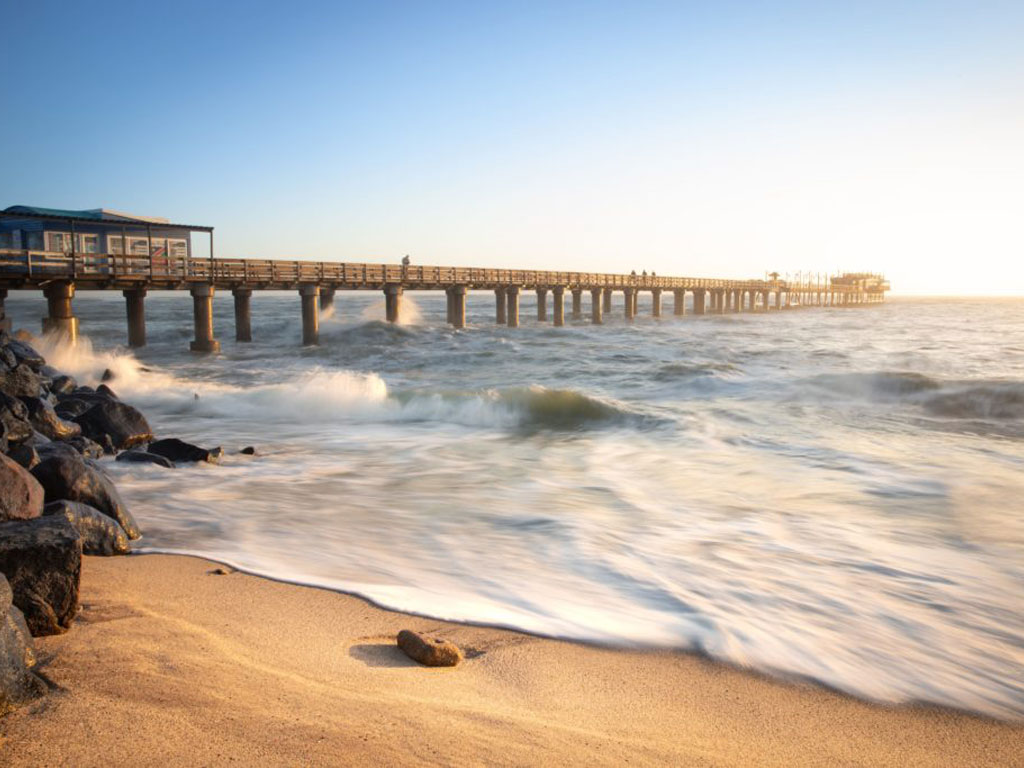 Namibian Beaches
Swakopmund is the second-largest city in Namibia, which tends to get crowded in summer. Its beach is desert and you can have views of the dunes of the Namibian desert. Here you can do adventure sports, such as sand surfing in the dunes, quad biking through the nearby dunes or skydiving.
Then you can visit the Walvis Bay lagoon that has shades between green and pink and where you will find its famous pink flamingos. In addition, here kitesurfing is practiced and even world championships are held. Another place to visit is the Pelican Point, where you can observe pelicans and sea lions in the wild.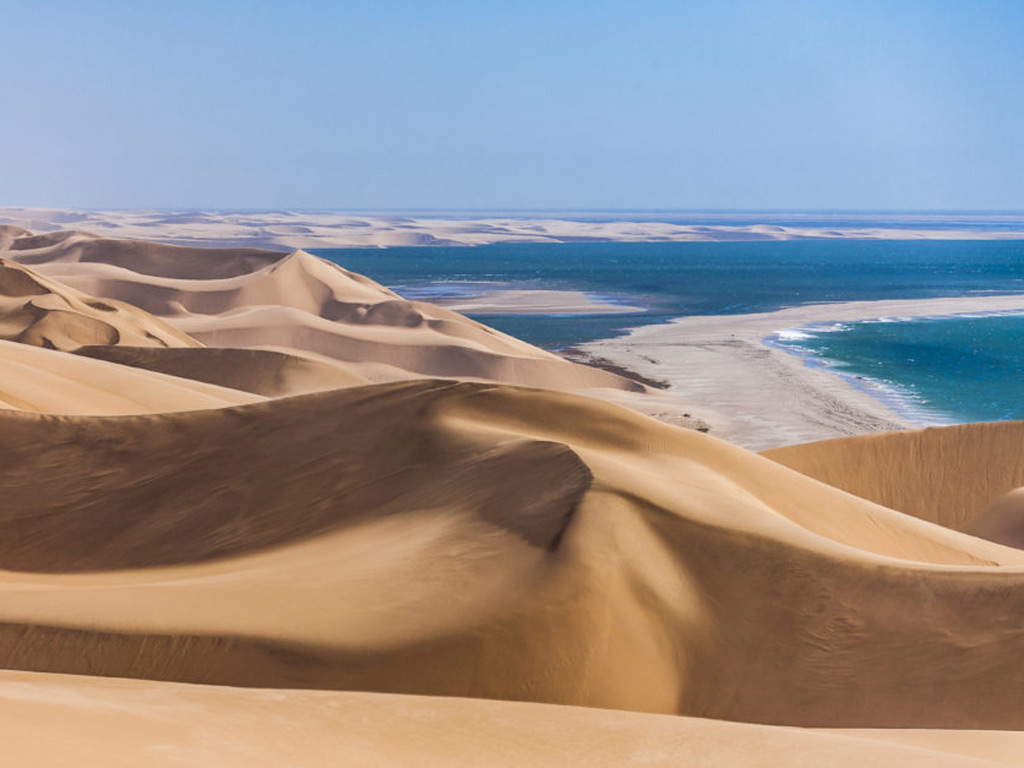 Skeleton Coast
Skeleton Coast is a mysterious landscape in Namibia, a beach that became a trap for boats, sailors, whales, seals, among others, due to the sandbanks that formed, the dense fog, and strong waves of the sea.
This place is known as the largest boat cemetery in the world and is a national park where tourists can see other attractions, such as the roaring dunes (by the sound of the wind on the sand), billion-year-old rock formations and a varied wild fauna that has survived in an area of ​​extreme aridity.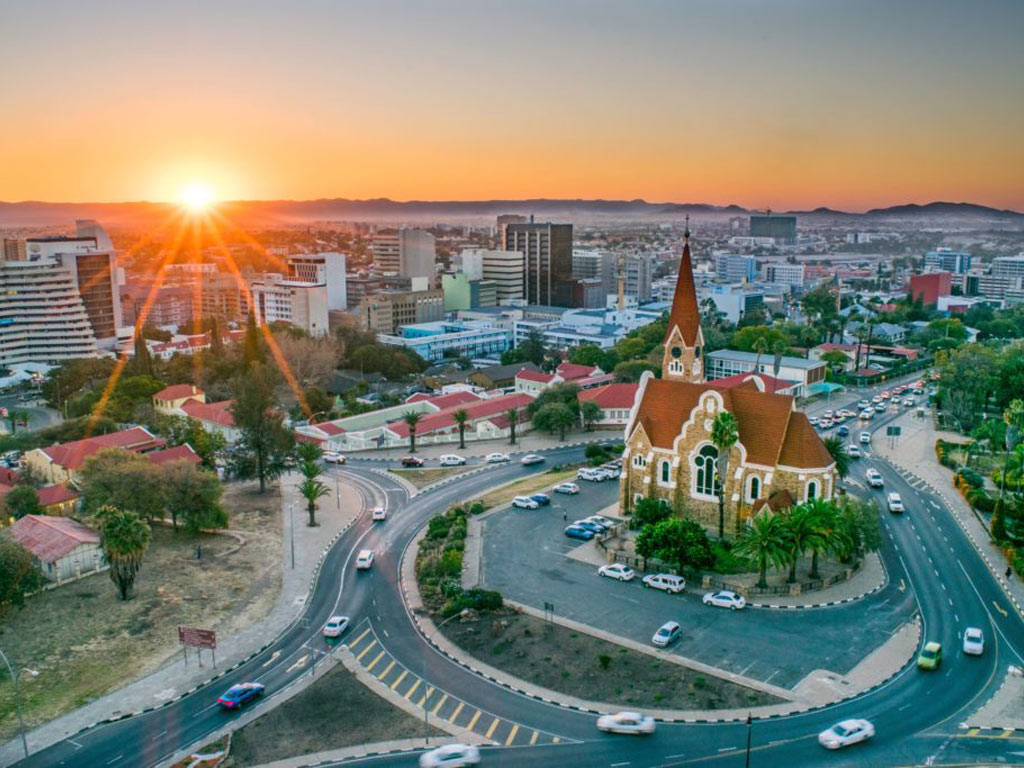 The capital of Namibia
Windhoek is the capital of Namibia, the main entrance to this country. It is a modern city, which was colonized by the Germans.
You can visit the National Museum of Namibia in Alte Feste, the Christuskirche (a Lutheran parish from 1896), the Katutura neighborhood that was built on the apartheid policy of South Africa in the 50's where people of different cultures live, in harmony.
Here you can find shopping centers, shops, and restaurants with typical food from this country, such as the crocodile, the zebra, the kudu, the oryx, or the springbok, which are considered farm animals for their inhabitants.
Are you coming with us to Namibia?
You can trust Nanan Travel to plan your dream vacation to Namibia. We have extensive experience, 24/7 contact and services in Spanish. You will not have to worry about anything, just enjoy your trip to Namibia in the best way.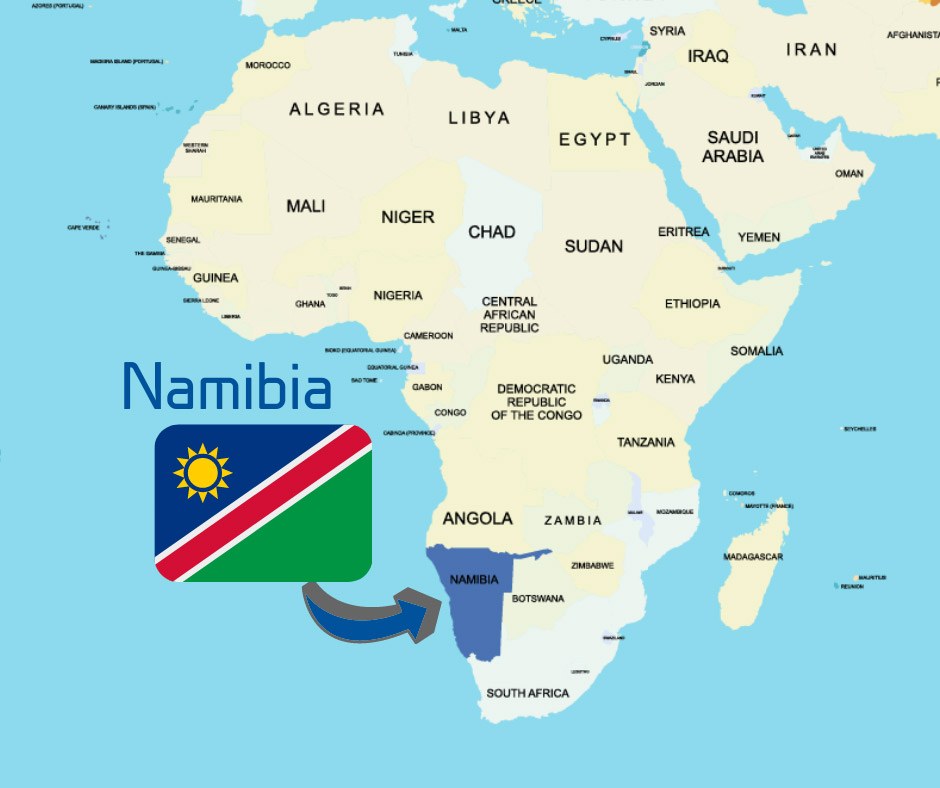 Thank you German for organising an unforgettable trip, your flexibility and the fact that you were on top of everything making sure everything went marvellously, I hope I can come back soon to see more! #GermanKnows
Yessica Flores Camborda
Peruvian
Unfortunately I was not able to travel with German to South America but he did provide the best touring and personalized service in Cape Town. Would highly recommend to anyone, for anywhere, at any time! Thanks an epic trip German!!
Jack Herman
USA
Excellent Organisation, Beyond our expectations! Thank you German!!
Salvador Rodriguez
Peruvian
He organised 10 to 28 friends of mine in Cape Town (#30Peruvians)… they definitely showed them the best of the city, the wine lands and a Safari!… Thank you very much German!
Fico Pastor
Peruvian
They organised our trip to Cape Town and everything was incredible, we did everything and it was all A1 a truly unique and unforgettable experience. Thank you German. Blindfolded the best option to get to know South Africa.
Tera Ascuna
Peruvian
The best way to see and fall in love with Africa! Thank you German for your advice and recommendations!
Vanessa Luna