Africa has a great variety of tourist options: Safaris, nature, animals, adventure sports and beautiful beaches. Below, we present you the most outstanding destinations in Africa. Do not hesitate to contact us if you want to meet them. We have been in the best lodges, so we will only recommend the best.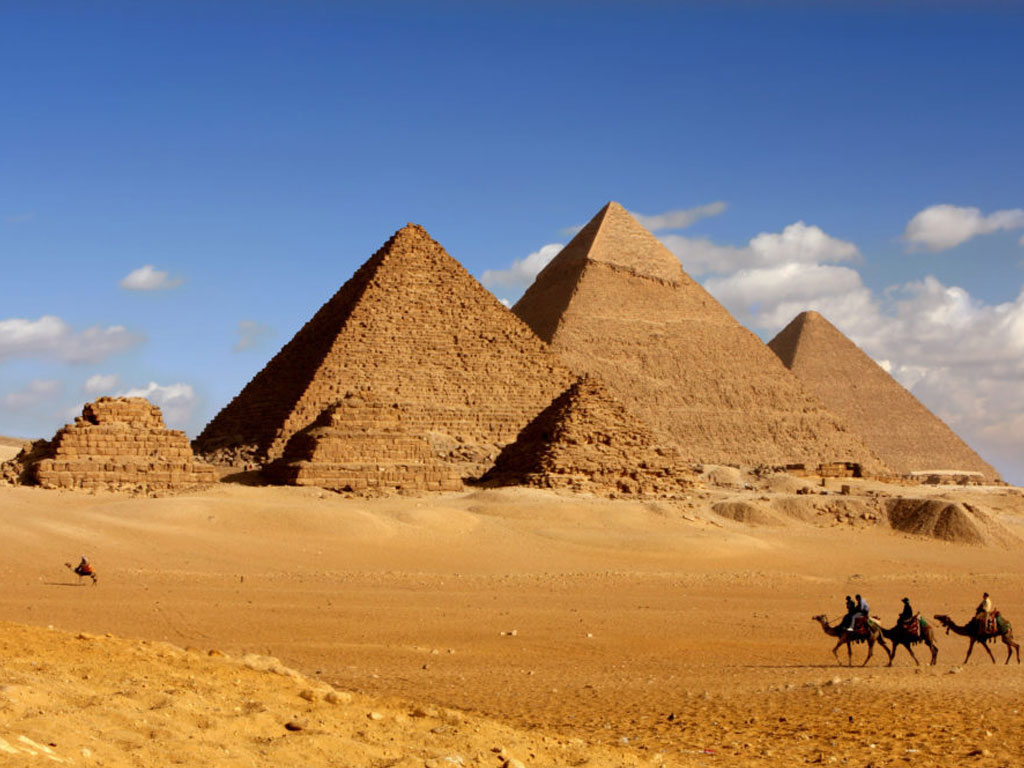 We start with the north of Africa, and without a doubt, Egypt is the first thing that comes to mind.
The Giza pyramids are definitely what is best known in Egypt, but that's not the only thing you can visit. Built in 2700 BC .. The main attraction is the sphinx next to the main pyramids of Keóps (145 meters high), Kefrén and Micerinos, which were built as crypts for the pharaohs. By car and in less than an hour, you can get to know up to two more complexes that also have pyramids that will surprise you, and best of all, without as many tourists as those in Giza.
The tour of the pyramids can be done in less than a day, however, since you have gone to Egypt, it is recommended to invest at least a week to visit the rest of the country. After visiting Cairo (and its unforgettable museums) you should take a cruise in the Nile and visit many incredible temples, along the way including the Valley of the Kings, a hot air balloon flight is not a bad idea .
For those who enjoy scuba diving, the Red Sea is one of the best places in the world to practice it, so you should invest a few days to visit it.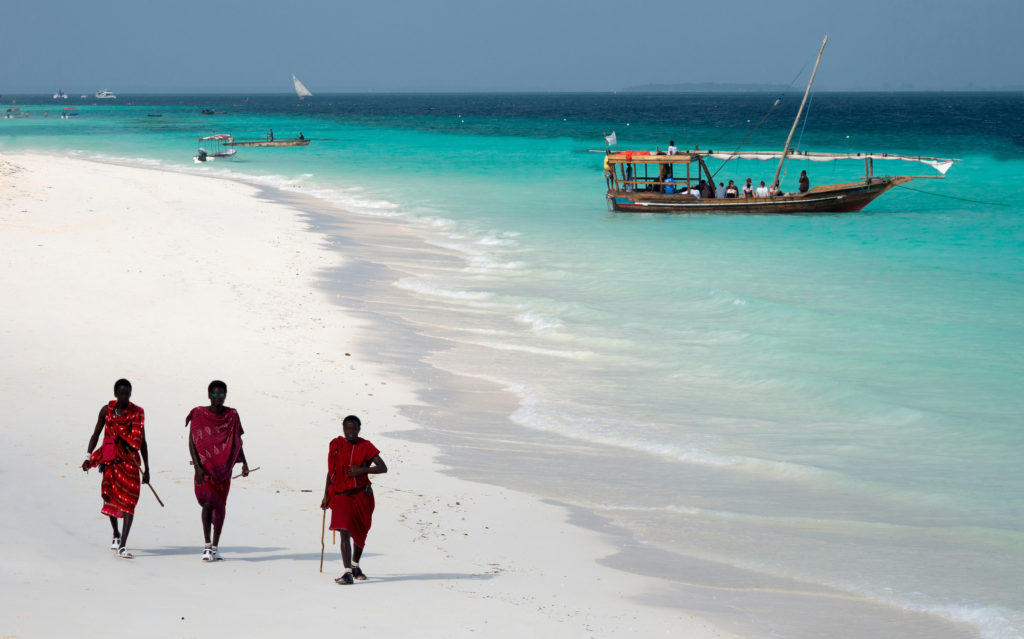 2. Zanzibar and its beaches
If you are looking for paradise like beaches with turquoise waters, this is the right place. It is a series of islands found in the Indian Ocean, 36km from Tanzania. Here you can enjoy warm weather all year round, find accommodation of all prices, snorkel or scuba dive, fly over the Indian Ocean by parasailing or go on excursions on traditional boats and enjoy the sunset (depending on where on the island you are). If you have been on safari in any of the neighboring countries, coming to rest in Zanzibar is undoubtedly the best option.
Apart from relaxing on the beach, you can also get to know its culture while you visit its fishing villages and visit its spices markets, which is why Zanzibar is also called the island of spices.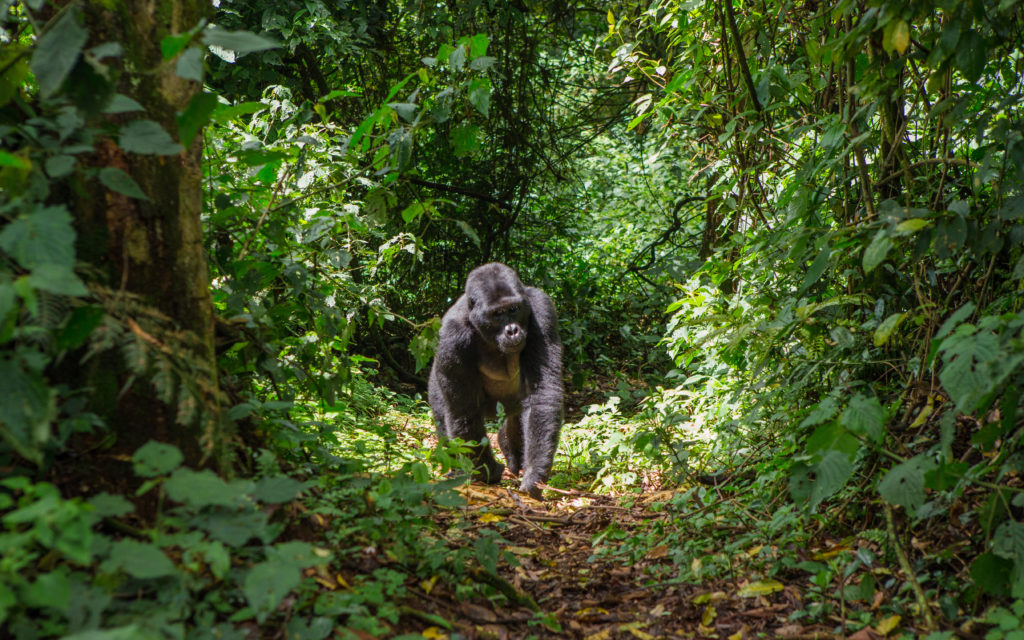 3. The gorillas in Rwanda and Uganda
Rwanda and Uganda are perfect places to observe these beautiful endangered animals, for this you must take walks that can vary between 30 minutes to a couple of hours. Depending on the physical level of the people they are assigned a family of gorillas either near or far. In these countries you can also visit and see chimpanzees in their habitat, very interesting too. We recommend that you make both excursions, and we do not doubt that they will be memories that you will have for life.
Uganda offers safaris and you can also see a kind of unique lions that climb trees. Are you going to miss it?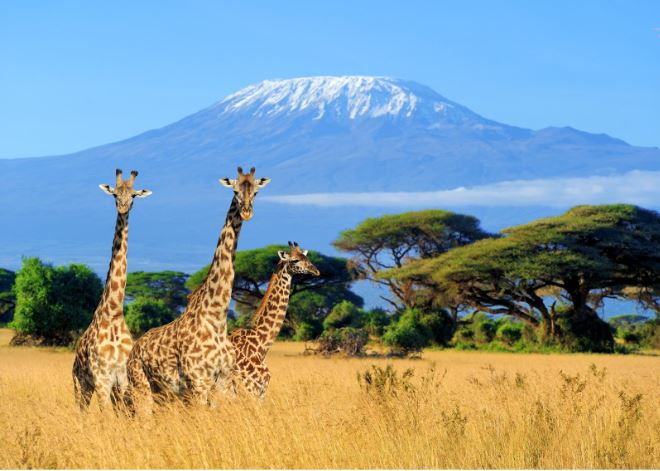 The highest point on the continent at 5895 meters, and the highest independent mountain in the world, is a must-see option located in East Africa. It is a volcano formed together with three others which are inactive: Kibo, Shira and Mawenzi.
Unfortunately its ice caps have been shrinking so it is better to hurry to visit it. If you choose Kilimanjaro as your destination, be sure to visit one or two of the national parks: Serengeti, Masai Mara, Tarangire, etc.
They have expeditions that last between 7 and 12 days depending on the tour taken. Consider that you will need a good physique to achieve it, but the experience will undoubtedly be unforgettable.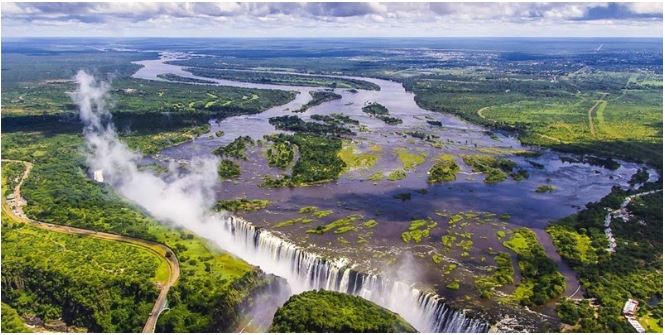 This incredible tourist attraction is 108 meters high on the border between Zambia and Zimbabwe. You can go directly to this destination and spend a couple of nights, but it is also a destination to enjoy during a day if, for example, you are visiting South Africa and you want to include these beautiful waterfalls in your trip.
Here you will not only be able to enjoy the waterfalls and the many adventure activities that are offered in the area, since there are also many National Parks options you can also be able to do safaris very close, the one that we most recommend is the Chobe National Park in Botswana .
One fact that not many know is that if you have a full moon day, take advantage and stay for the sunset, as a view of the moonlight will bounce off the Victoria Falls that will form a night rainbow. Not to be missed!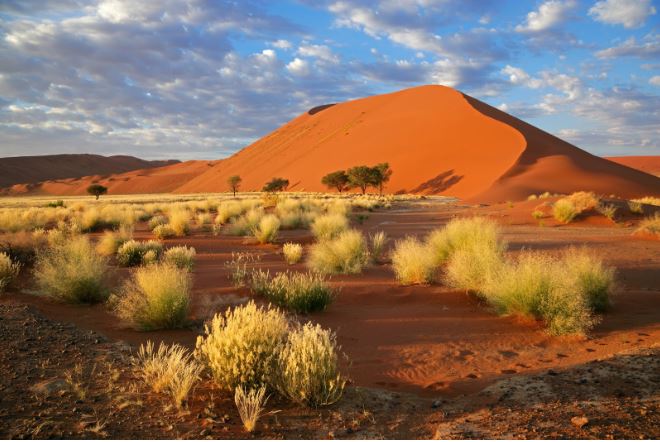 6. Namibia and its desert
The oldest desert in the world at 65 million years old, located in the south of the continent. A good place to visit would be Sossusvlei, where you can see some of the highest dunes in the world and the impressive Kalahari desert, a bit further north is Skeleton coast, Cape Cross (where you can see the sea lion colonies) or the 22 hectare Etosha National Park expansion where you can find black rhinos (almost extinct species).
The best way to visit the impressive desert with red dunes is through a light plane or a hot air balloon to have a panoramic view, so it is time to lose your fear of heights and enjoy the view.
As a curiosity, in this desert lives also the oldest plant in the world, which is capable of living up to 1,500 years, and is called Welwitschia Mirabilis. There's a "forest" of them.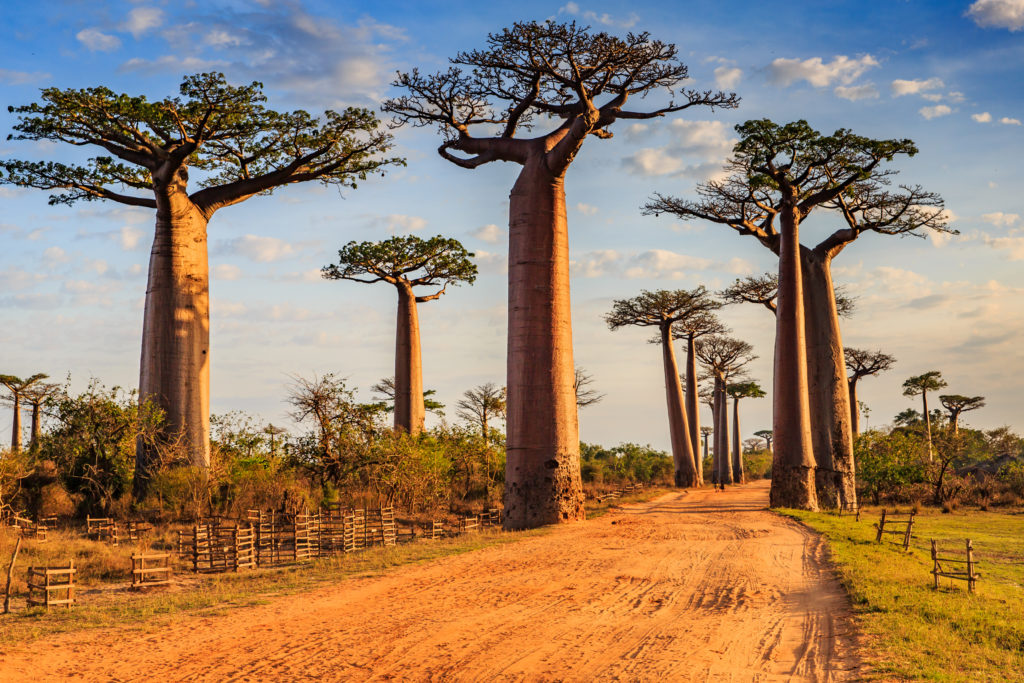 An unforgettable stop to discover unique beaches and species: such as baobabs that only grow in this island, the world's largest butterfly, the smallest lemurs and those that are the size of a 4-year-old child, among others.
To know its flora and fauna, you must visit its parks and national natural reserves such as: the Anja Reserve, the Ranomafama or the Andasibe-Mantadia, which is where you will be able to see the different types of lemurs more easily. You can also visit the Avenue of the Baobabs in Morondova, where you will see these trees with unique aspects, part of the identity of Madagascar.
You can also enjoy beautiful beaches in the north of the island, there are many of them to navigate, and get lost in the wonder of its landscapes. So do not hesitate to get on a 4×4 and go discover them.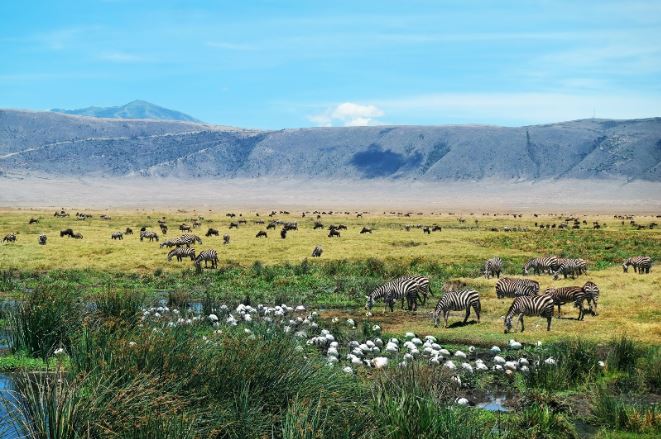 8. The Ngorongoro Crater in Tanzania
Protected area, as one of the original eight volcanos is active, the Oldoinyo Lengai. Ngorongoro is one of the largest craters in the world (if not the largest).
You will be able to find up to 25,000 species of animals including the Big Five: The Lion, Elephant, Buffalo, Leopard and Rhino, so it is a spectacular place to go on safari and be able to see animals in their own habitat.
The crater has a microclimate so you can find an abundance of wildlife that normally lives there all year round. It is also a World Heritage Site, according to Unesco.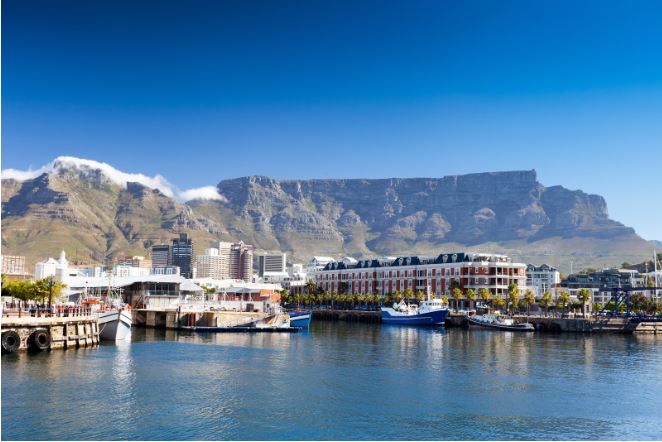 9. Cape Town in South Africa
Located in the south of the continent, it is the most popular destination in the South African country. Beaches, social life, nature, luxury vineyards and lots of adventure sports.
In Cape Town you have infinite plans to enjoy either as a tourist or as a local, because it has incredible restaurants and hipster areas with independent shops that you will surely want to visit.
And if you like to surf, you could not have chosen a better destination. The water is cold, but it is a wonderful destination that draws surfers from all over the world, not to mention the incredible number of trekking routes in and around the city. It's a must on your trip to South Africa!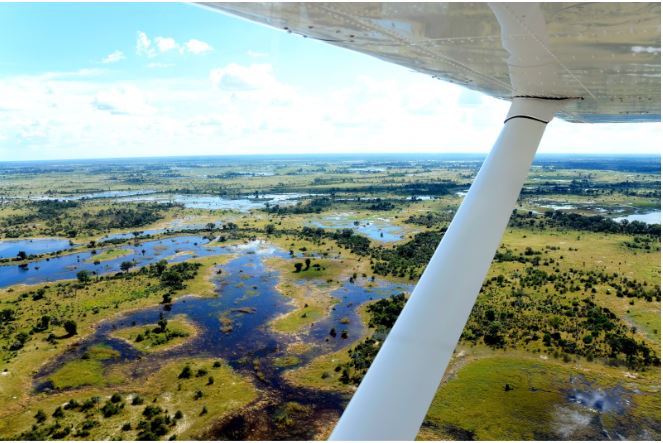 10. Botswana and the Okavango Delta
Botswana is another perfect destination to enjoy nature, since it has a very varied fauna. One of the must-see places in Botswana is the Okavango Delta, one of only two deltas that ends up on dry land and not in water. It is also one of the last remaining virgin areas in the world. Here you can enjoy an incredible view of elephants, hippos, giraffes, crocodiles, among others, in their natural habitat.
There is also a desert area with salt flats, very extensive, where you can sleep under the stars outdoors, do you dare ?
What did you think of these places in Africa? Surely more than one caught your attention for your next vacation, so do not hesitate to contact us to organize your trip in the most personalized way possible. Send us a whatsapp a +27767687708  or an email to [email protected] and we will reply to you shortly.
Thank you German for organising an unforgettable trip, your flexibility and the fact that you were on top of everything making sure everything went marvellously, I hope I can come back soon to see more! #GermanKnows
Yessica Flores Camborda
Peruvian
Unfortunately I was not able to travel with German to South America but he did provide the best touring and personalized service in Cape Town. Would highly recommend to anyone, for anywhere, at any time! Thanks an epic trip German!!
Jack Herman
USA
Excellent Organisation, Beyond our expectations! Thank you German!!
Salvador Rodriguez
Peruvian
He organised 10 to 28 friends of mine in Cape Town (#30Peruvians)… they definitely showed them the best of the city, the wine lands and a Safari!… Thank you very much German!
Fico Pastor
Peruvian
They organised our trip to Cape Town and everything was incredible, we did everything and it was all A1 a truly unique and unforgettable experience. Thank you German. Blindfolded the best option to get to know South Africa.
Tera Ascuna
Peruvian
The best way to see and fall in love with Africa! Thank you German for your advice and recommendations!
Vanessa Luna