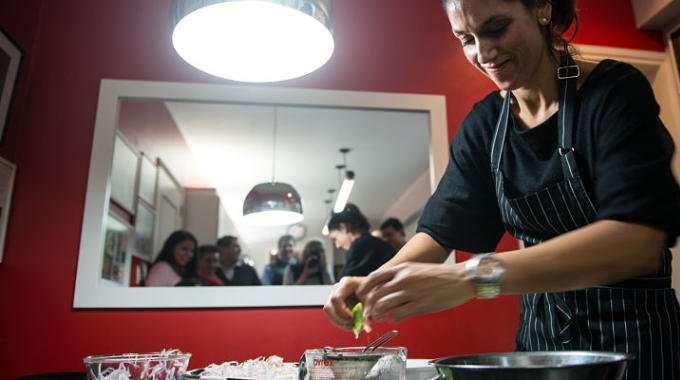 If you're only going to Peru to hike the Inca Trail to Machu Picchu then there is a lot about this amazing country that you'll miss. Yes, the trek to over 4,200 metres above sea level will be a trip you'll never forget but there is another part of the Peruvian heritage that is also an incredible experience for all your senses. That is the food scene, especially in Lima but throughout the country too. We believe here is no better way to immerse yourself in this than by way of a Gastro Tour. This can last one or two hours – or up to four and five days!
TripAdvisor has a list of great food and wine tours in Lima. You can scan the routes they follow, places they go to and reviews they've received. This is a good way to get an idea of what is available. One of the options you won't find on this list (or advertised anywhere else) is a unique gastro experience we stumbled upon a few years ago, run by an incredible woman who lives in a house on the cliffs overlooking the coast of Lima.
She doesn't want her tour advertised and so we can't even give you details here. What we can tell you is that she's based in Barranco and needs to be booked in advance because she only takes groups of 5 to 8 people, maximum.
But it is absolutely worth it: this lovely lady takes you to the market to buy all ingredients fresh and direct from their source. You'll then go back to her home and be taught how to cook them. Over the course of a few hours you'll transform fresh local produce into the tasty dishes you'll then share with her and your friends, while overlooking the crashing waves of the ocean below.
This is a truly unique experience and we can't recommend it highly enough.
We're really proud of other experiences we've made happen for our clients. Some of them are daredevils; some love the extravagant side of life; some are just regular folks like the rest of us. Here are our favourite memories relating to food:
We had a client from Rio decide she felt like flying to Lima for the day to bring a few of her friends to dine at Maido. We made that happen! They flew in on a Saturday morning, ate at Maido, which is a Japanese Peruvian fusion restaurant and one of the top eating places in Lima, and flew home the next morning. Talk about spur-of-the-moment memories!
A couple once contacted us for ideas of what to do during an 8-hour layover in Lima on their way to a wedding in Colombia. Without hesitation, we suggested they have lunch at La Central, the number 1 restaurant in Peru and rated number 4 in the world. We also suggested dinner at Maido. They agreed to both and we made the bookings. Arriving at La Central before it opened, our guests decided to snack on a Chicharron sandwich at a deli next door, not realising that a 16-course food adventure awaited. They ended up spending their entire lay-over eating and told us afterwards they loved absolutely everything that was presented and were so well fed they nearly missed their onward flight. Of course, we would never let that happen 😉
If you do find yourself in Peru and looking for good restaurant choices, in addition to Maido and La Central, we happily recommend El Mercado, La Mar, Pica, La Nacional, Rafael, Panchita, Cala, Saqra, La Huaca and Amaz. And if you find yourself unable to decide on what dishes to try, Germán's favourites are Ceviche de Pescado, Tacu Tacu, Causa Rellena, Aji de Gallina and Choclo con Huancaina. Let us know where you went and what you thought of the food and the place. We'd love to hear from you!
Thank you German for organising an unforgettable trip, your flexibility and the fact that you were on top of everything making sure everything went marvellously, I hope I can come back soon to see more! #GermanKnows
Yessica Flores Camborda
Peruvian
Unfortunately I was not able to travel with German to South America but he did provide the best touring and personalized service in Cape Town. Would highly recommend to anyone, for anywhere, at any time! Thanks an epic trip German!!
Jack Herman
USA
Excellent Organisation, Beyond our expectations! Thank you German!!
Salvador Rodriguez
Peruvian
He organised 10 to 28 friends of mine in Cape Town (#30Peruvians)… they definitely showed them the best of the city, the wine lands and a Safari!… Thank you very much German!
Fico Pastor
Peruvian
They organised our trip to Cape Town and everything was incredible, we did everything and it was all A1 a truly unique and unforgettable experience. Thank you German. Blindfolded the best option to get to know South Africa.
Tera Ascuna
Peruvian
The best way to see and fall in love with Africa! Thank you German for your advice and recommendations!
Vanessa Luna