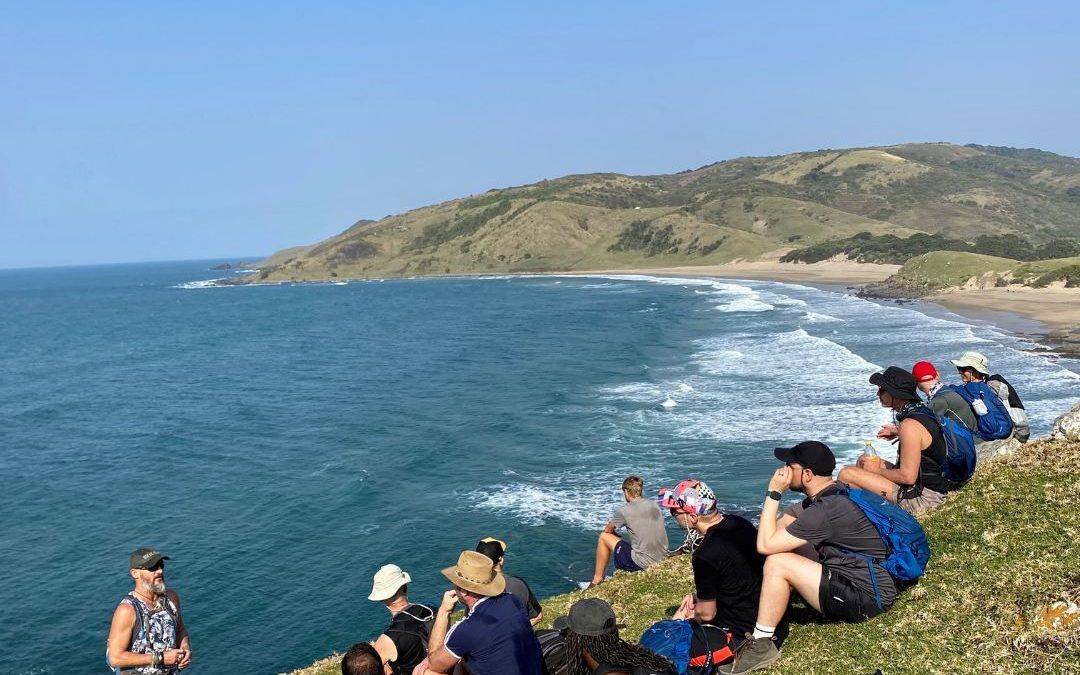 We recently did the Pondo trail, one of the most scenic and beautiful trails in South Africa, the planning started almost a year before when our friend asked if we would join them on a trail, he knows us very well so he knew it had to be a fully serviced trail, what do I mean by that? Well, firstly, we needed someone to help carry our bags, definitely not sleeping in tents. Secondly, we wanted food cooked for us and obviously, drinks, so, yes! The Pondo trail is just like that, you carry a small bag with whatever you might need during the day, basically a water bottle, a long sleeve sweatshirt or jacket just in case, preferably a rain jacket, snacks, and sunblock, that is what I had in mine. 
The way the trail works, you start from Mtentu, just outside Port Edward, this can be, by road, a couple of hours on a bumpy road, or by boat, if the sea conditions are good, now, to get there you fly to Durban, we spent the night before there and then met everyone at the airport to start the 3-hours drive to the Estuary hotel in Port Edward, where we spent the night, next morning we go on a 2-hours drive to the starting point of the trail, some people were very lucky, actually, just Jan, because one of the guys doing the trail didn't want to do all the driving so he went on a Helicopter and since they charge for a minimum of 2 people Jan got to go with him. We all met at the edge of the Mtentu river mouth and the adventure started with us going across the river. No, we didn't swim, and although a few of the guys did, we went on a Kayak.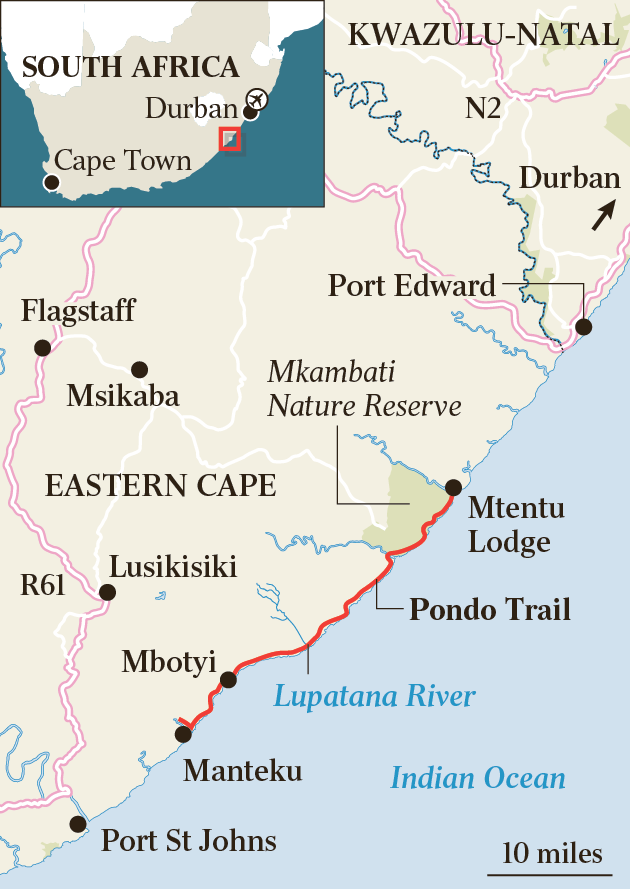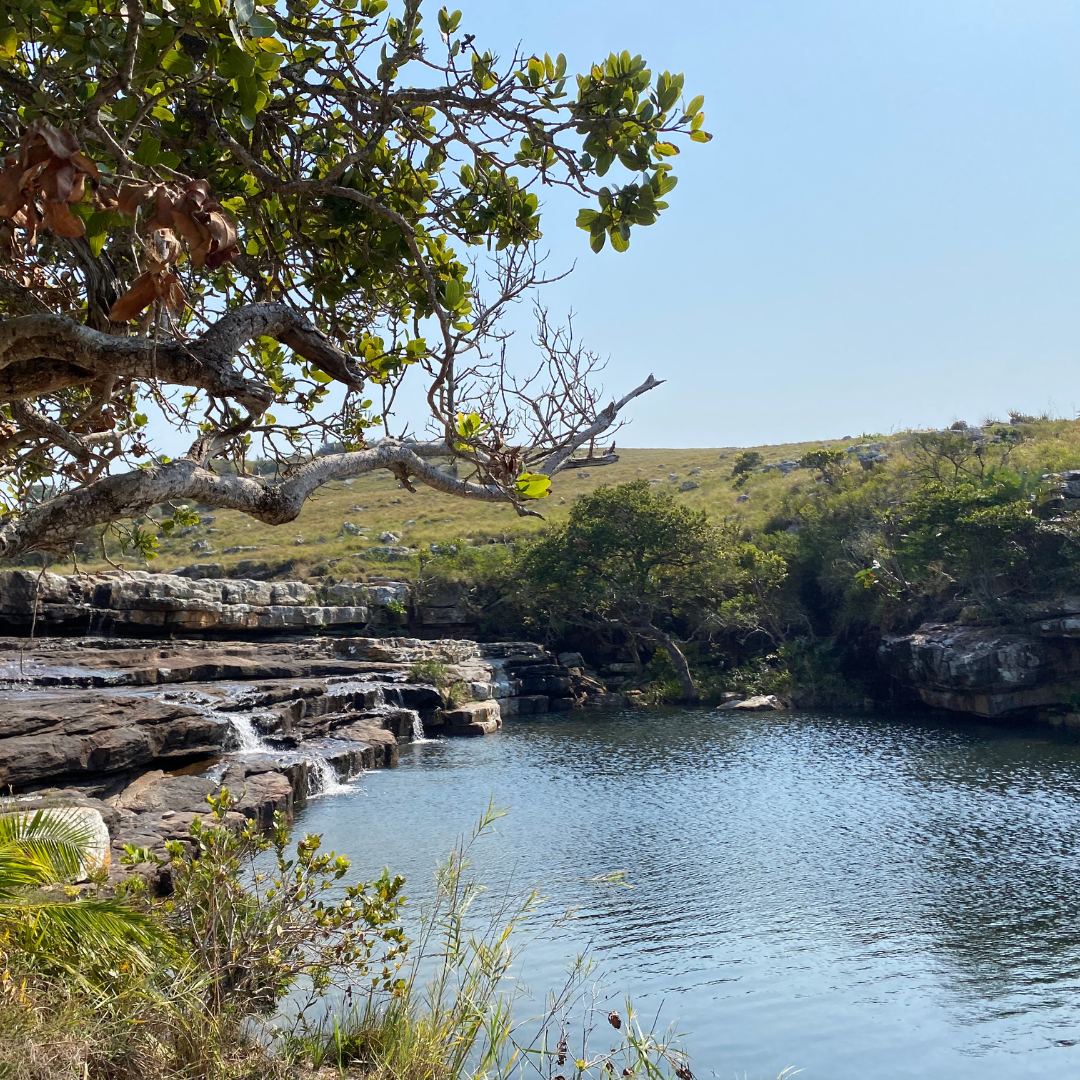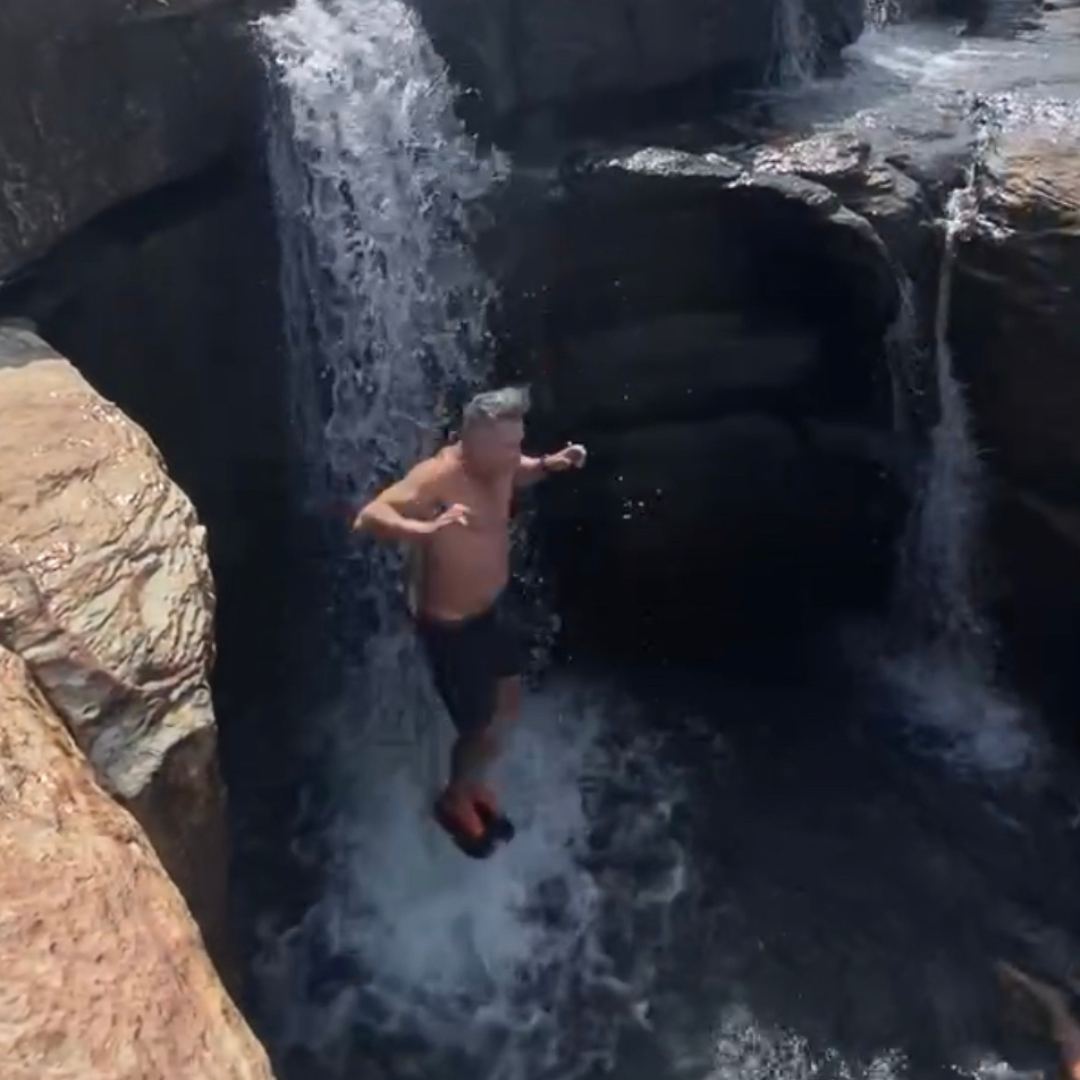 We start the trail and it's all very exciting and fun, within 45 minutes of starting we find a waterfall and we jump in the water, then we keep going, we stop for lunch at a very nice natural pool, now, the first dat we walk across a nature reserve so although we didn't see any, we could have seen some wildlife, wait, we did se Zebras.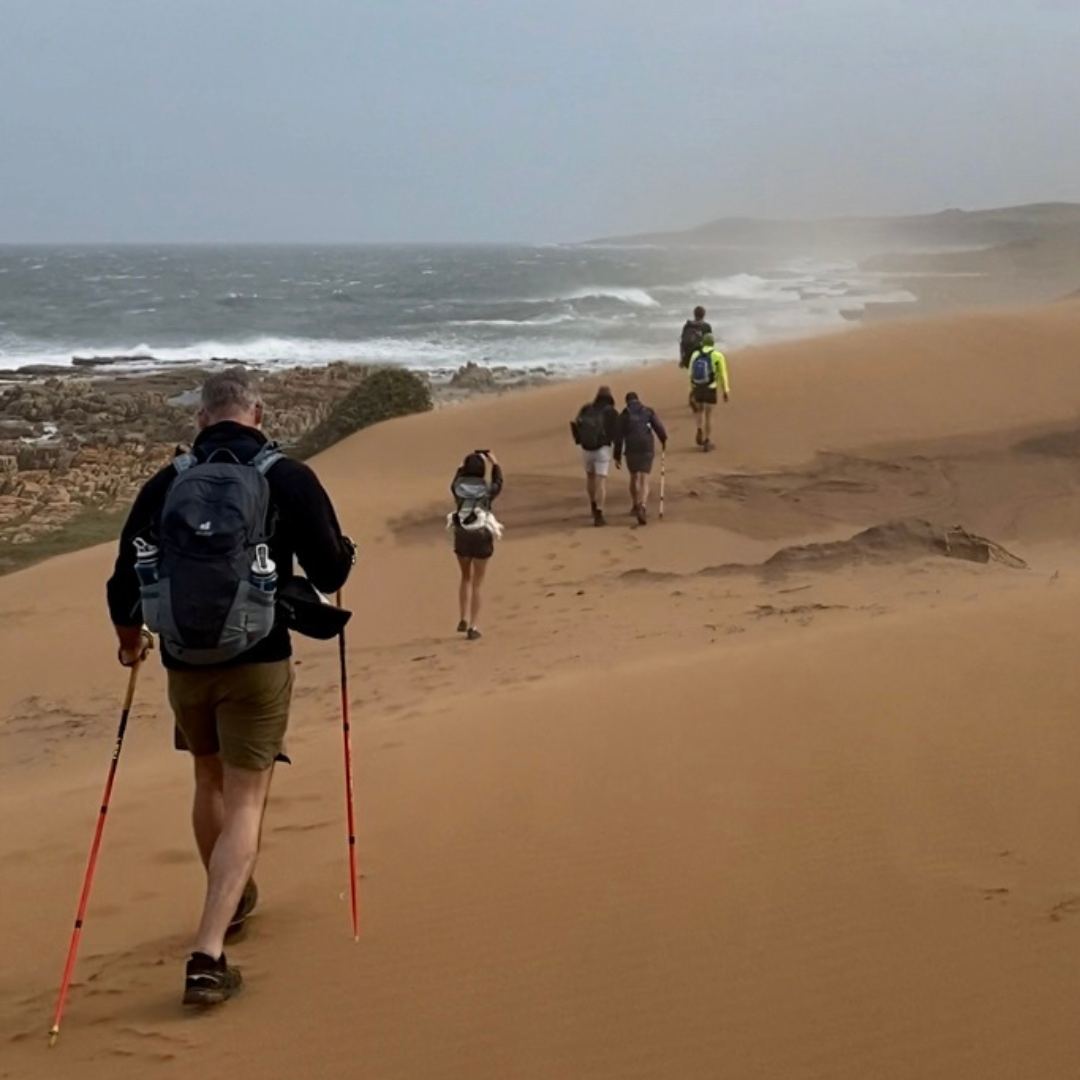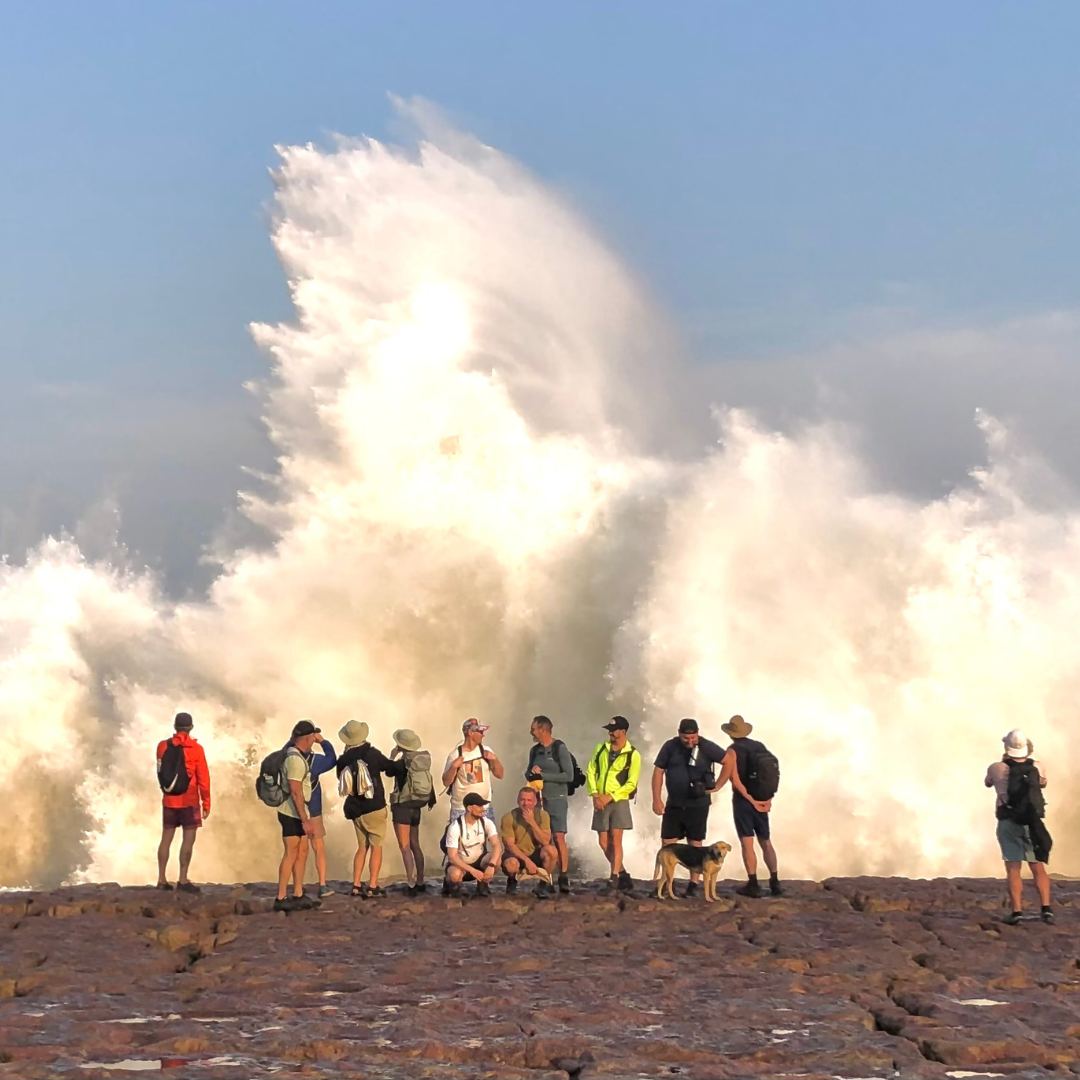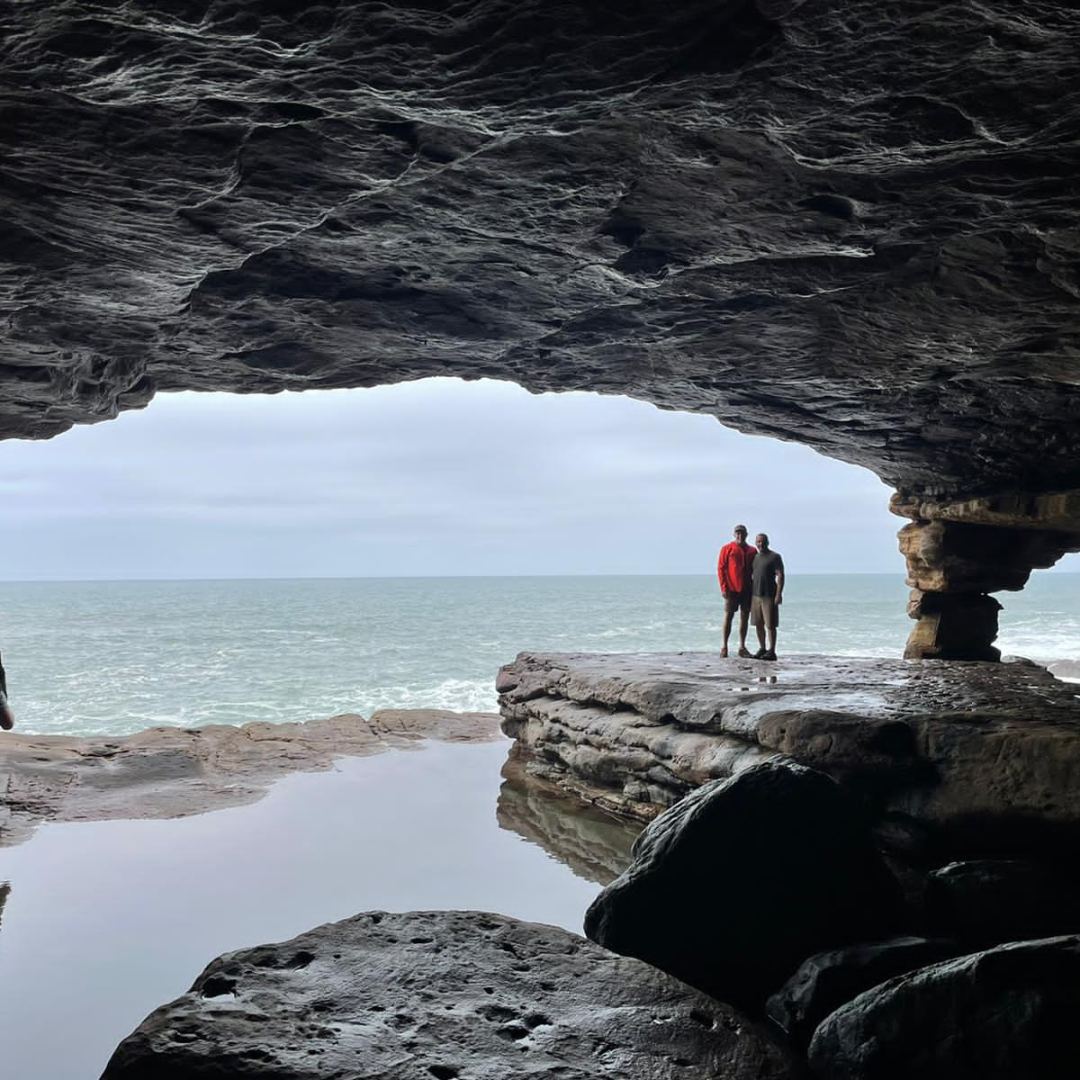 Now, we are out of the nature reserve, and I have to admit, it was the less exciting day of the 5, the landscape was pretty much the same all day, lots of grasslands and not much diverse scenery, it got quite windy at one point, but it ended majestically!
As we were reaching the end of the day we saw far away in the distance, these massive waves crashing against the coastline making giant splashes, I immediately thought, ah! It would be so cool if we could walk right next to them, well, guess what? We walked right next to them, the splashes were huge and very often and that rocky coastline was about 1km long, at the end of all this splashing and fun was our campsite, right next to the river mouth which they had organized a bonfire and plenty of G&T waiting for us, (wine for me please)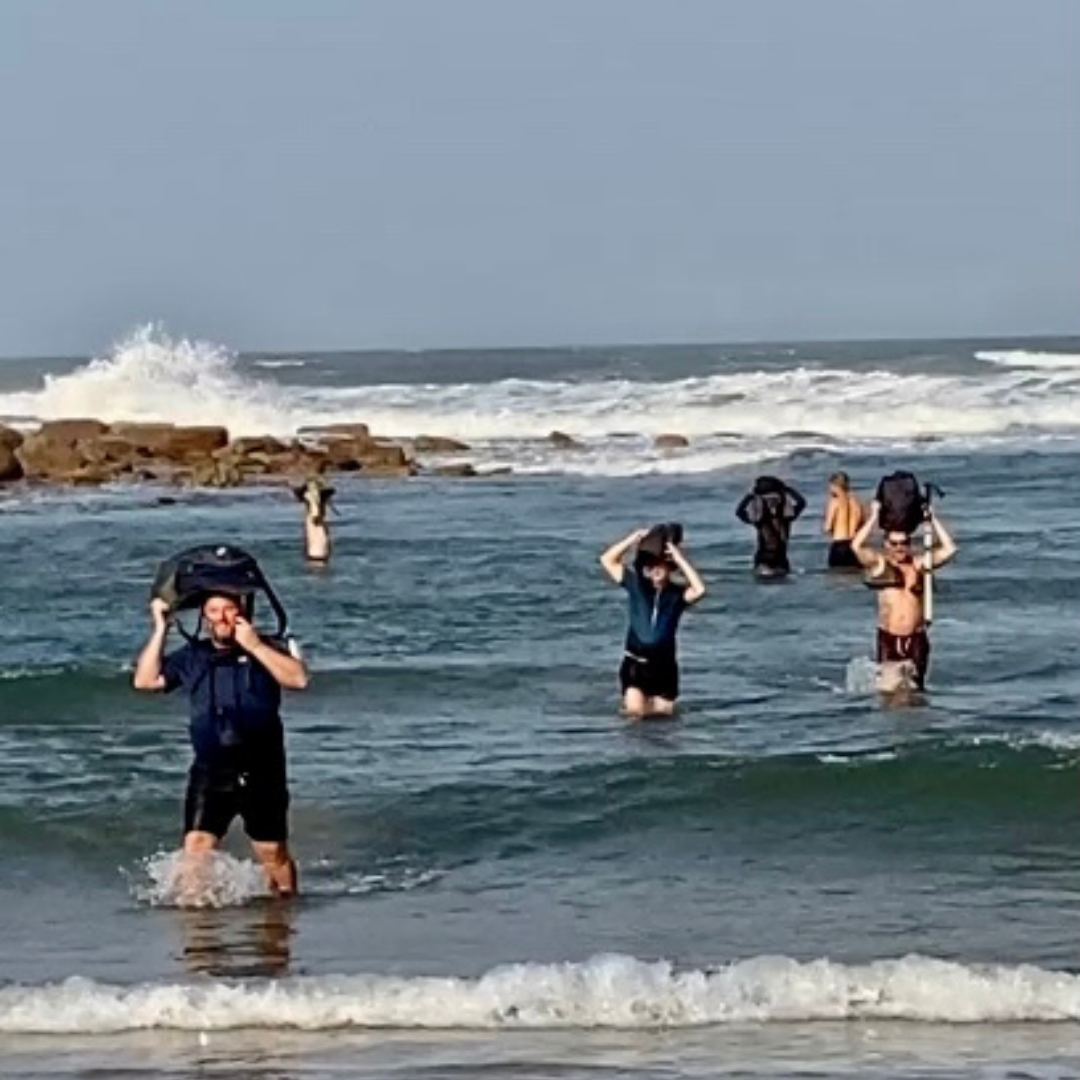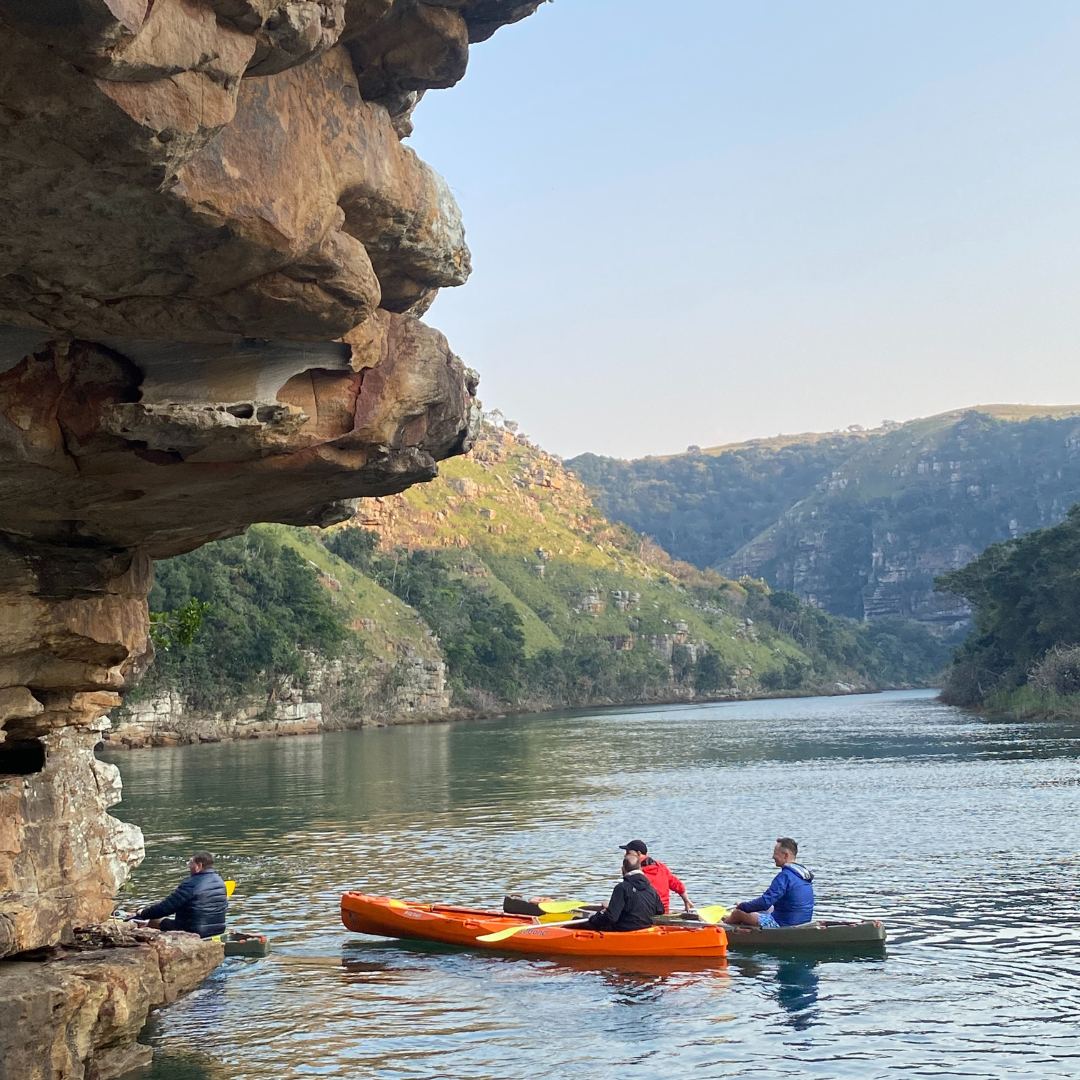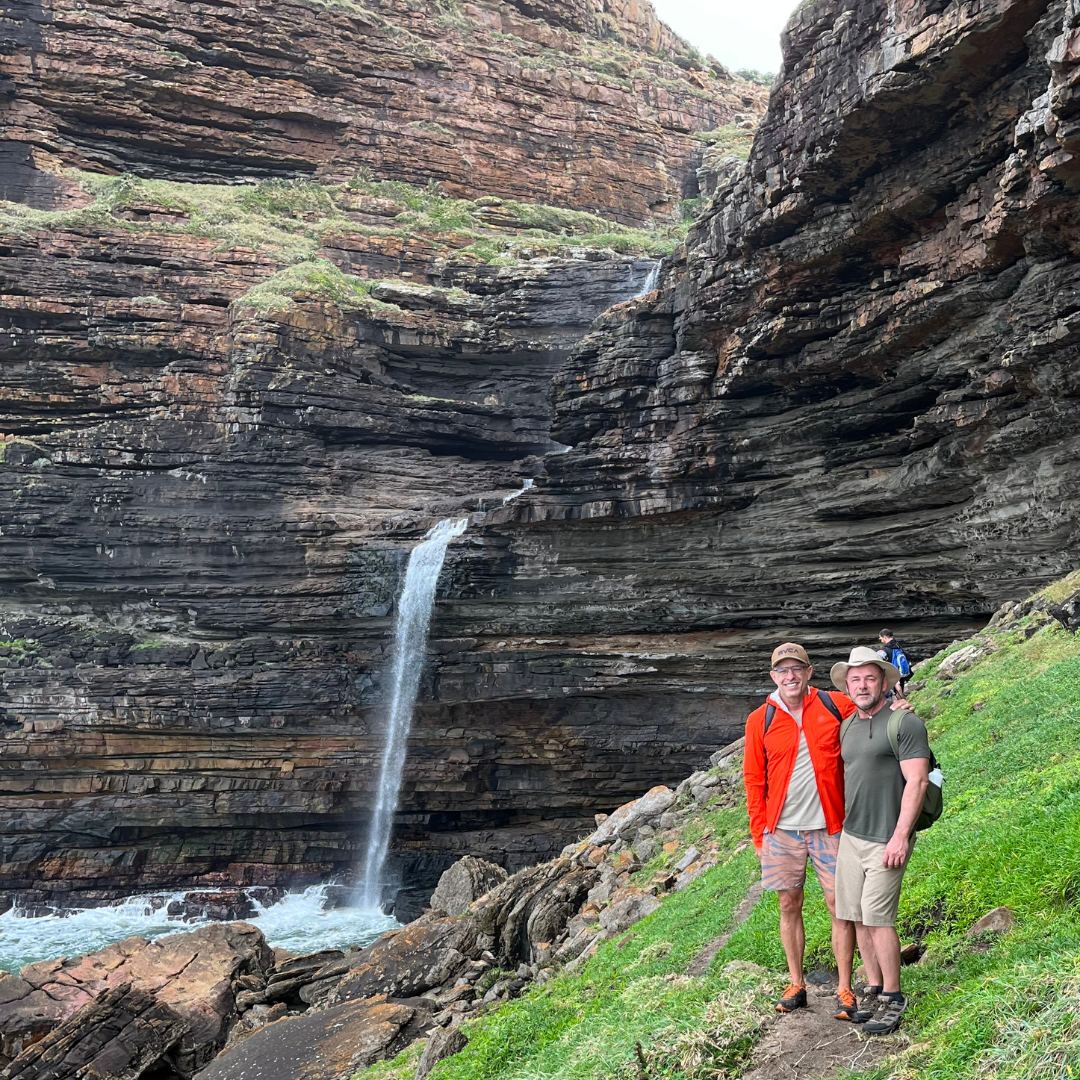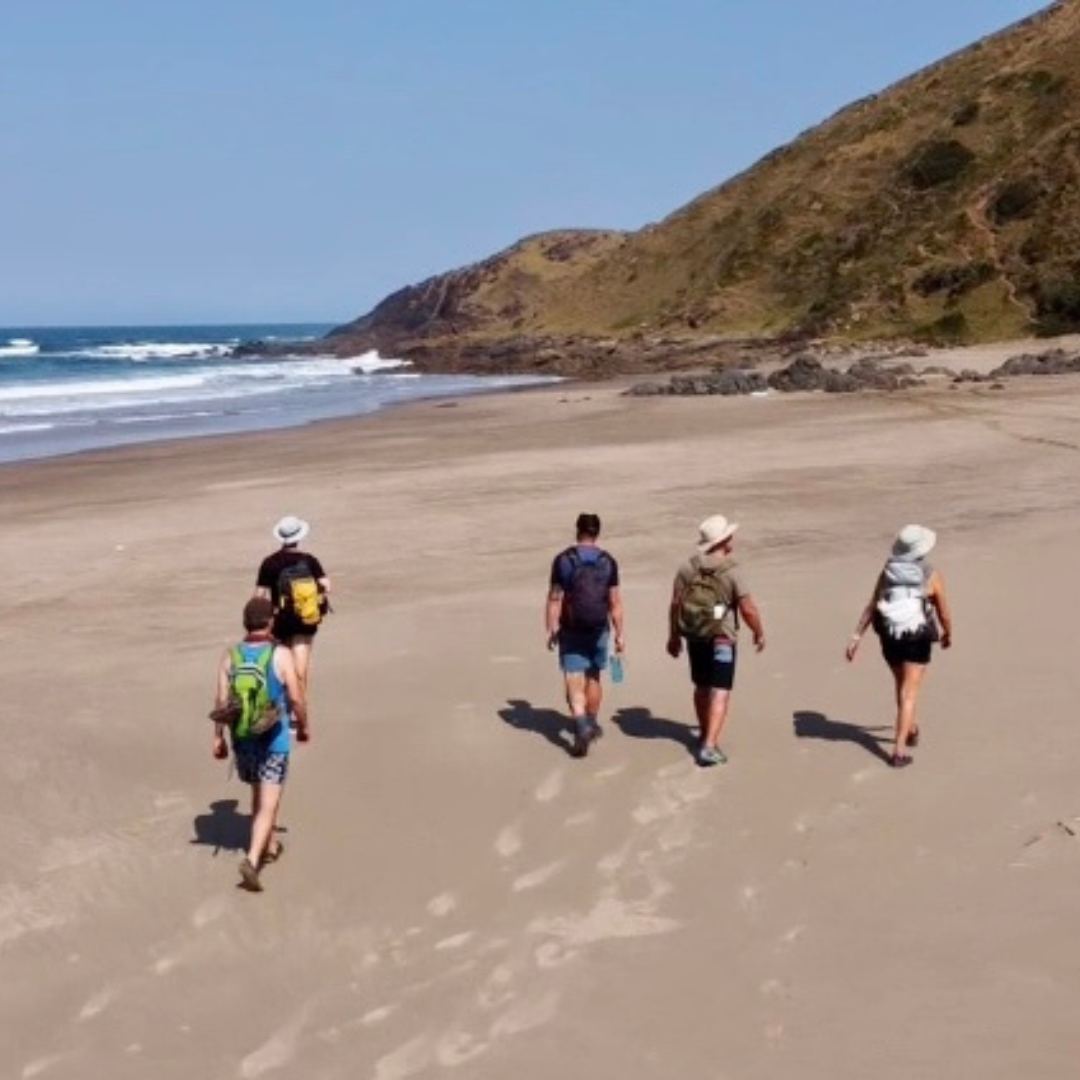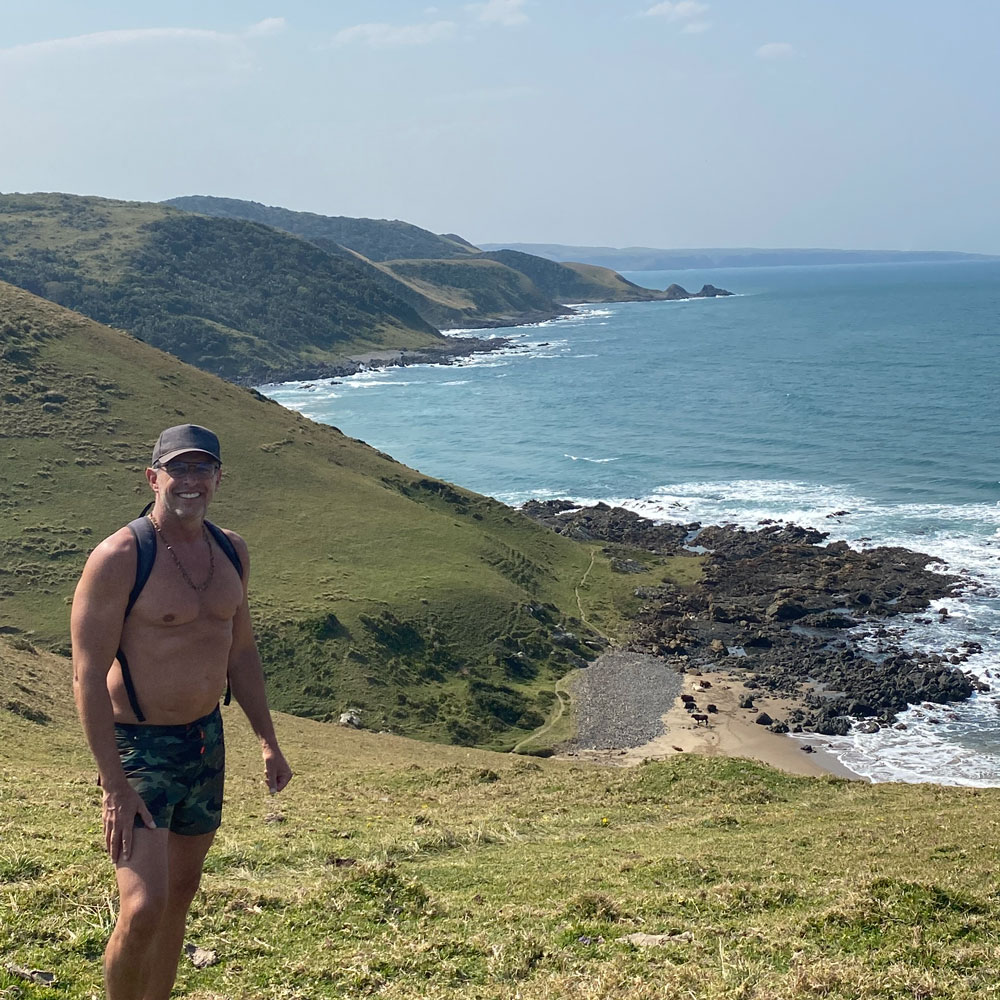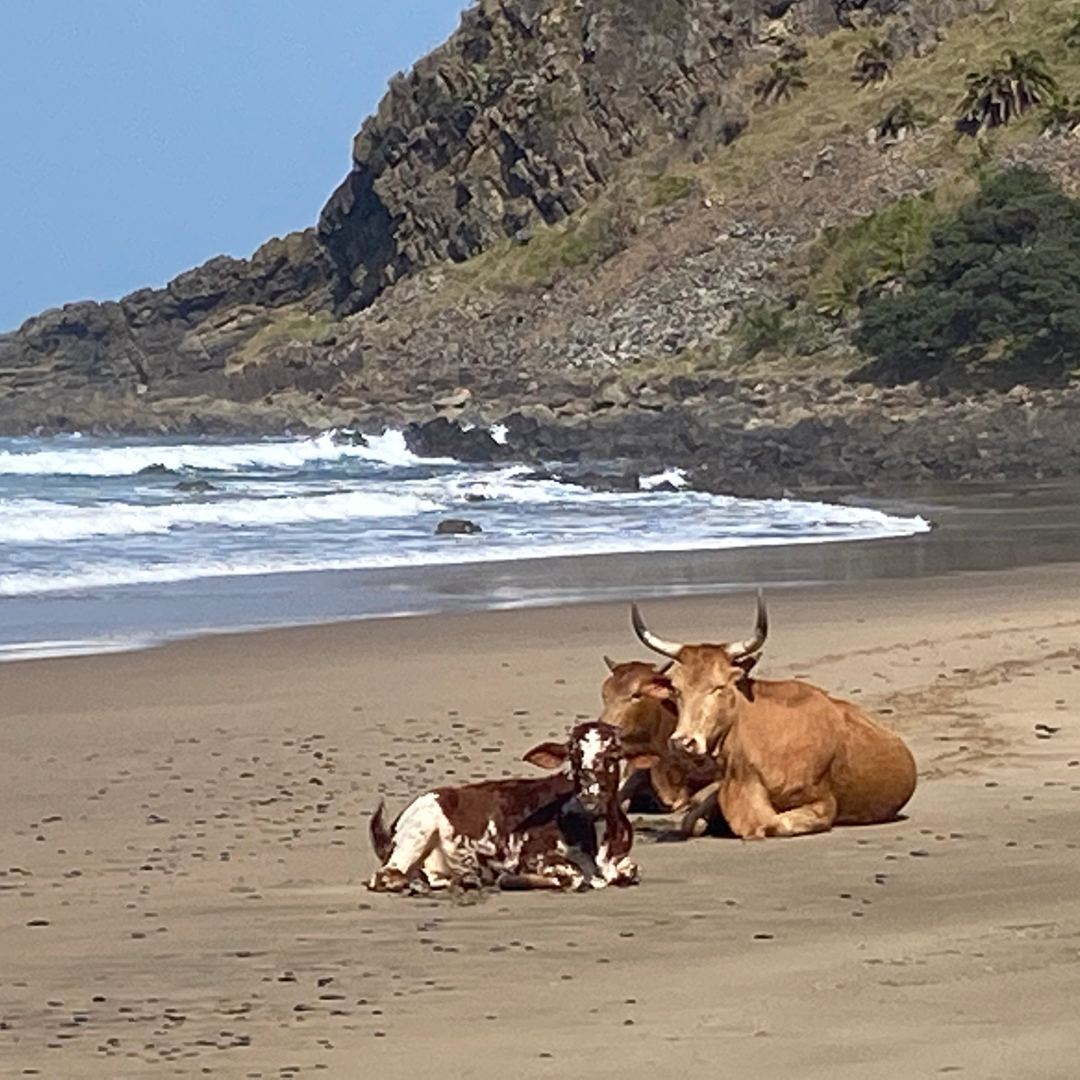 This is supposed to be the most exciting day, we are going to see the waterfall Bluff, one of the few waterfalls that go straight into the ocean. According to our guide, there are only 12 waterfalls like this in the world, and 3 of them are on this trail but only this one is accessible. OK, only this one has easy access. Lots of uphill and downhill, we even went to see a cave, and then we came up to the waterfall, very impressive. Unfortunately, the weather wasn't on our side so we didn't walk down to it and got totally wet, I should have done it! So, yes, it was the best day.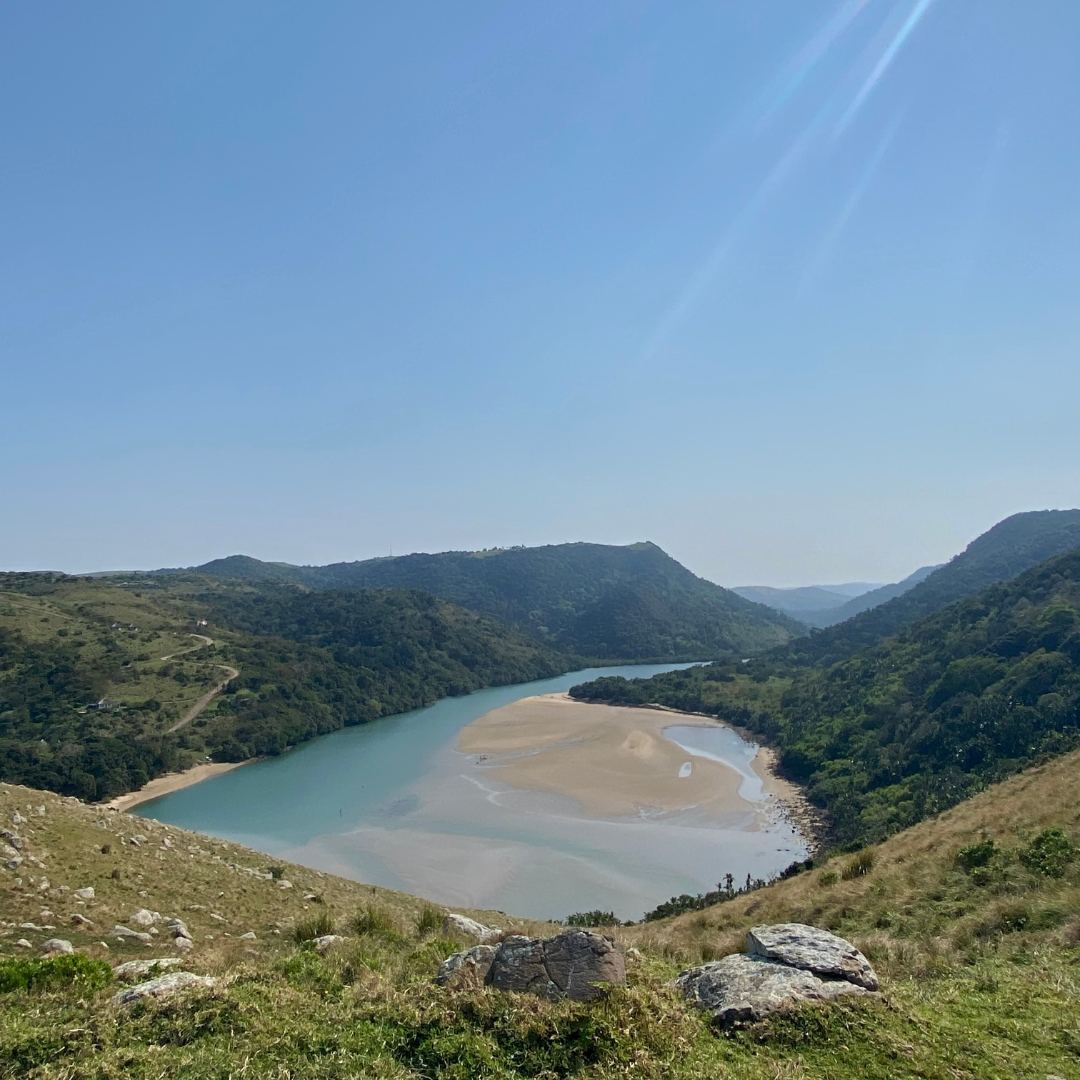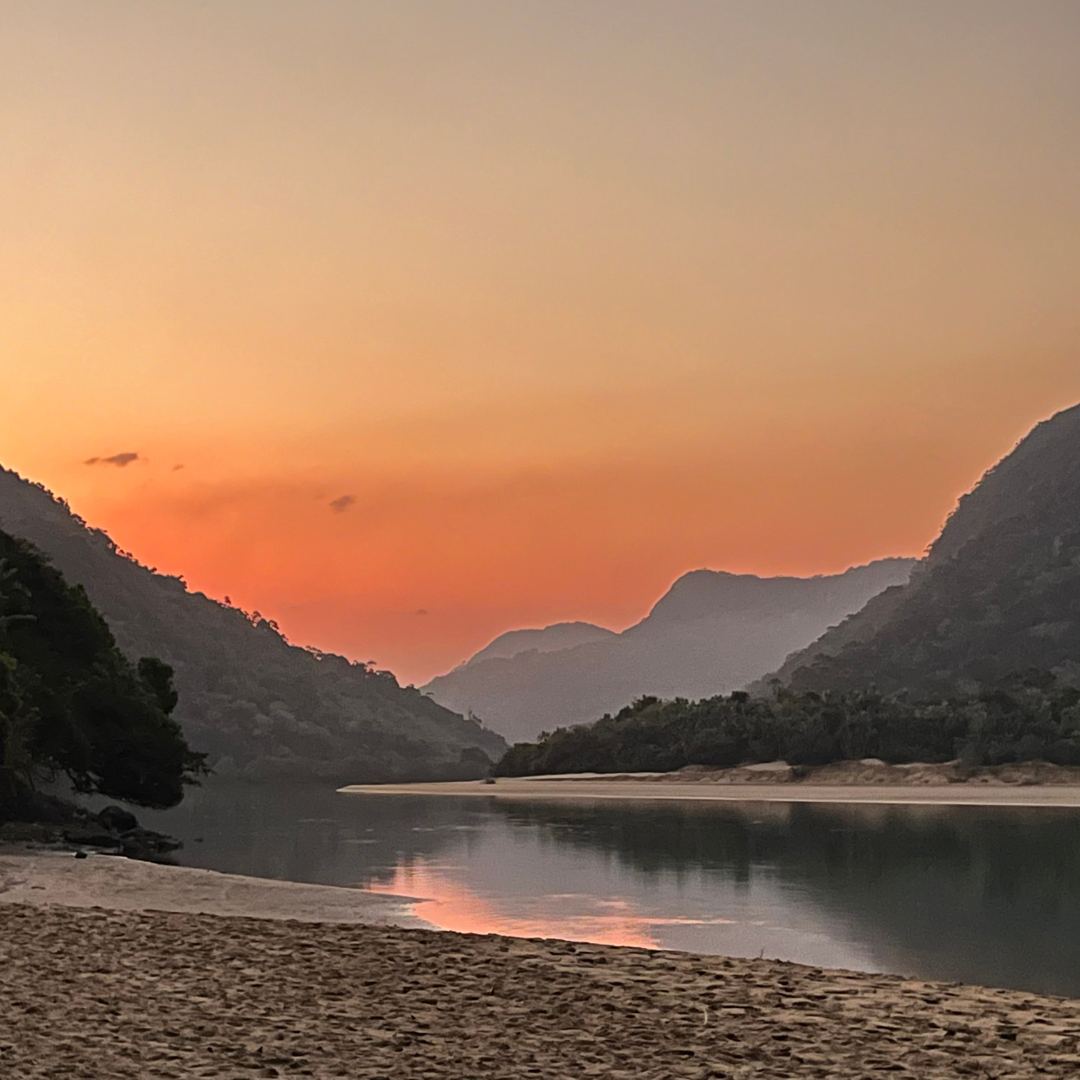 On our last day walking, we did walk a lot, a total of 10 km. Day 3 is the longest and the best day, today. It wasn't as long but it took us across 7 headlands and 6 beaches, each one more beautiful than the other. When we reached the top of the last hill, the view of the estuary where we ended the trail was just amazing. We arrived there at midday and spent a fabulous afternoon by the river, drinks, friends, and fun, all around a fantastic bonfire.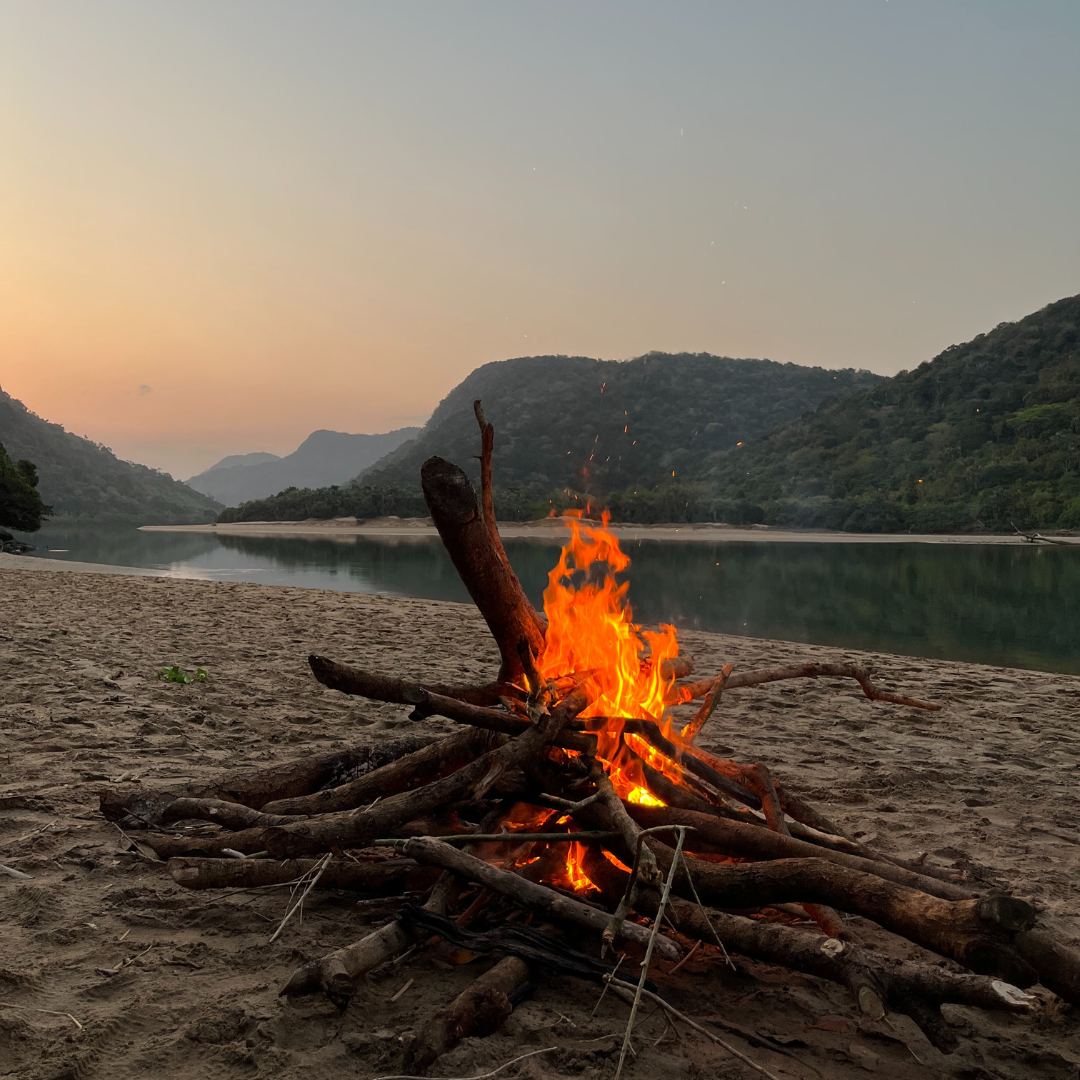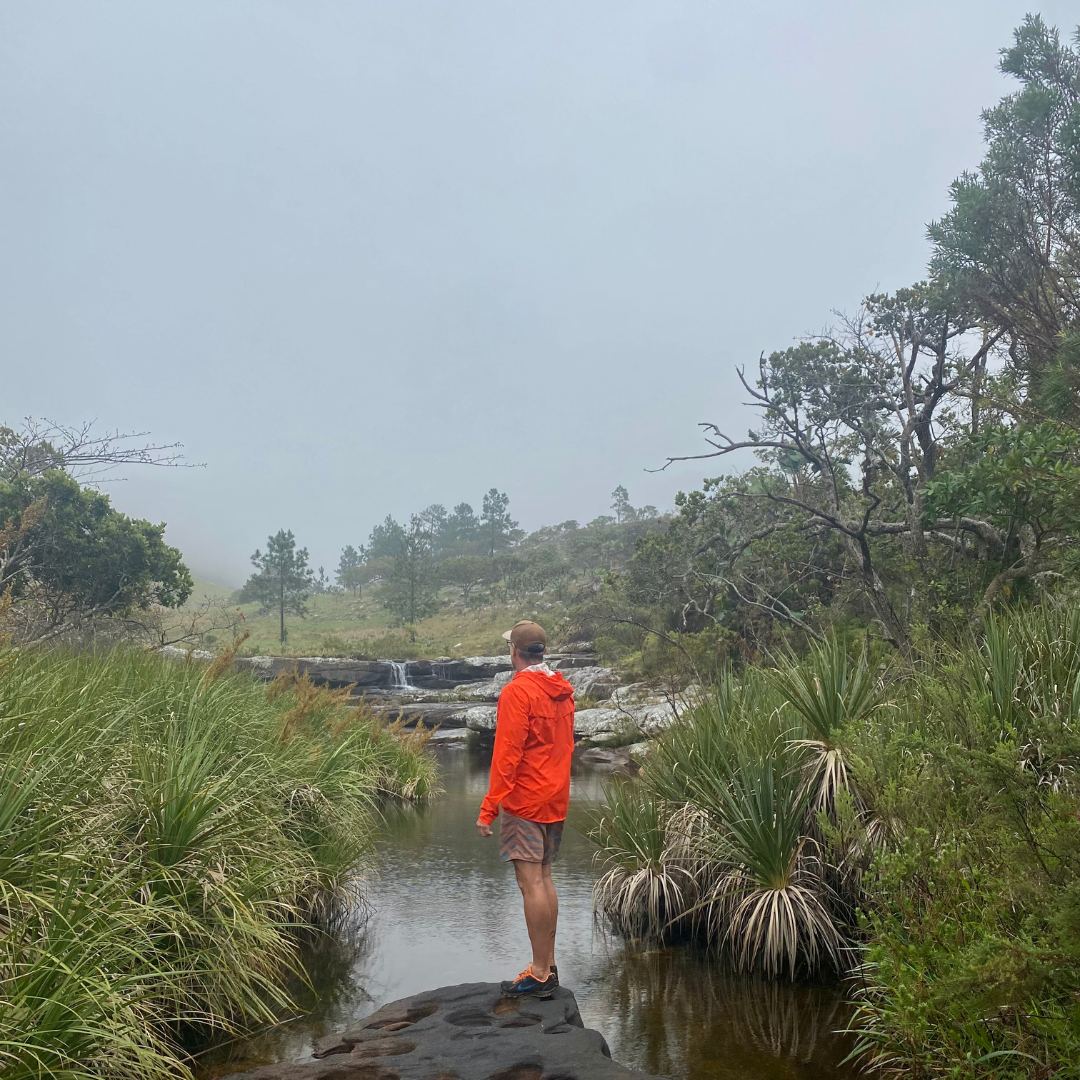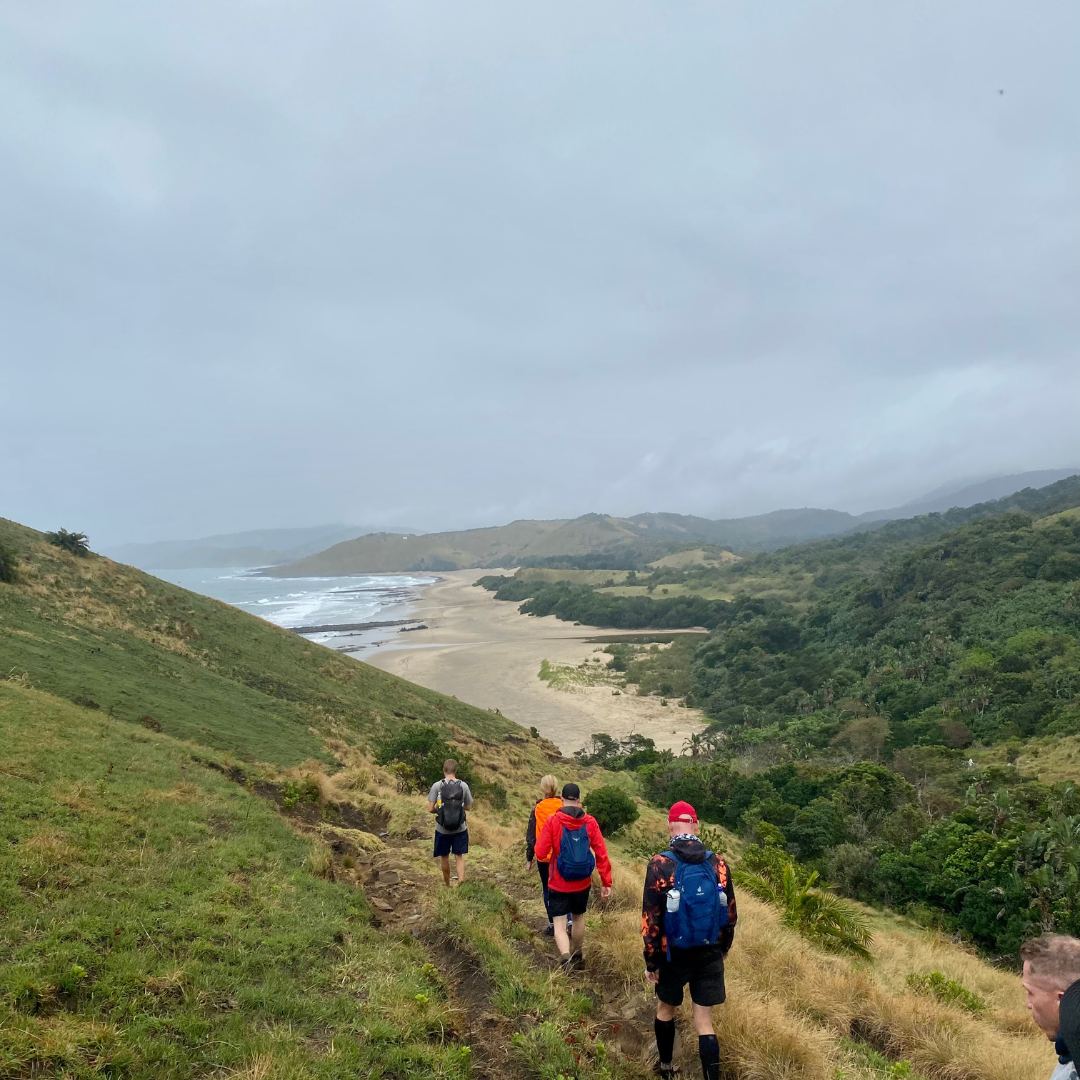 We head back to where it all started, Durban. Word of advice, if you can take a helicopter back, DO IT! It was a long drive and of course, we were all super tired. In my opinion, it was a bit too much, about 7- hours drive back, but when you think about the trail and how beautiful everything was, it was all worth it.
In summary, The Pondo Trail is a Must-Do, especially if you love nature and like the outdoors. However, you have to like walking. A total bonus are the beaches, rivers natural pools, and waterfalls. The best time to do it is between April and May, but you need to book this well in advance, almost a year in advance.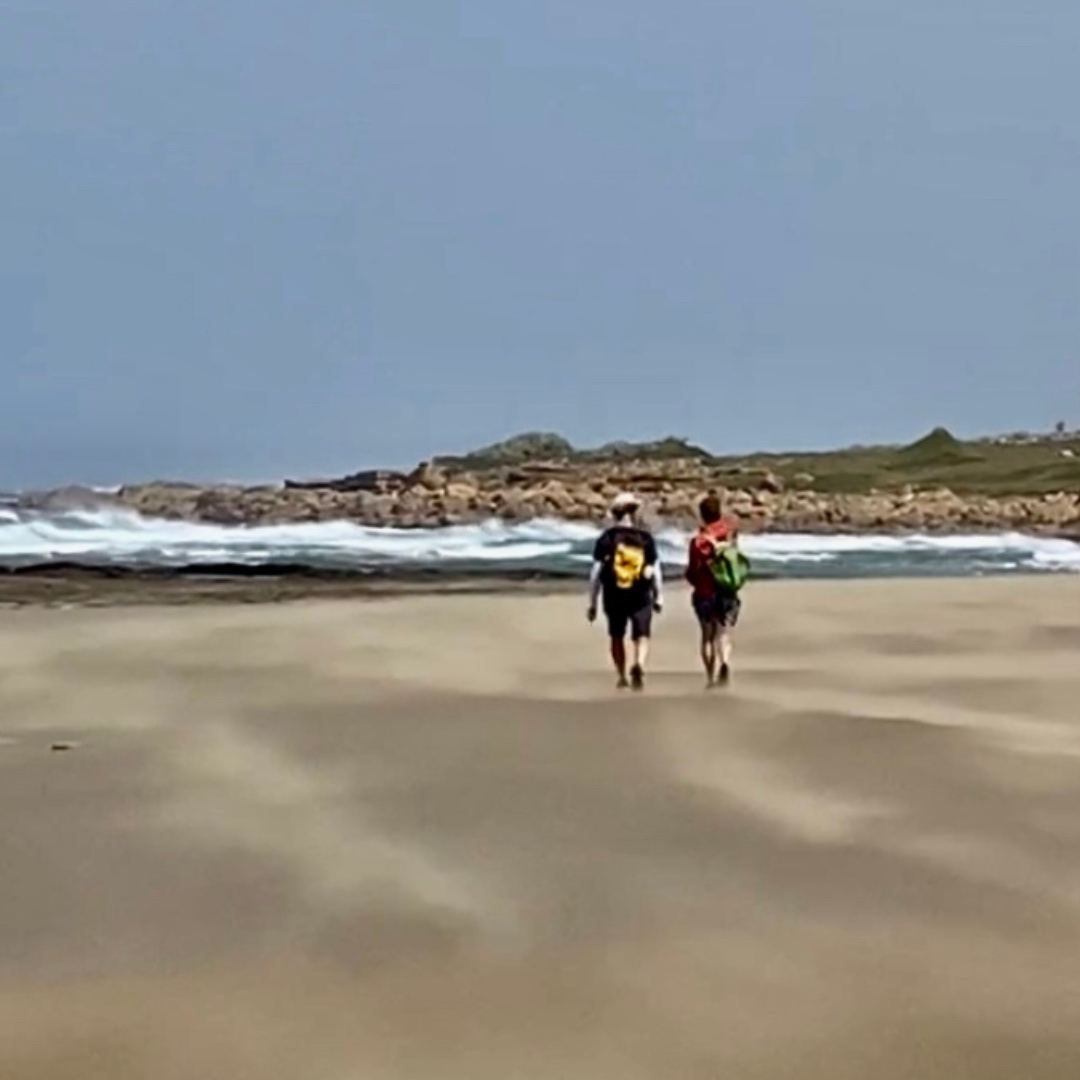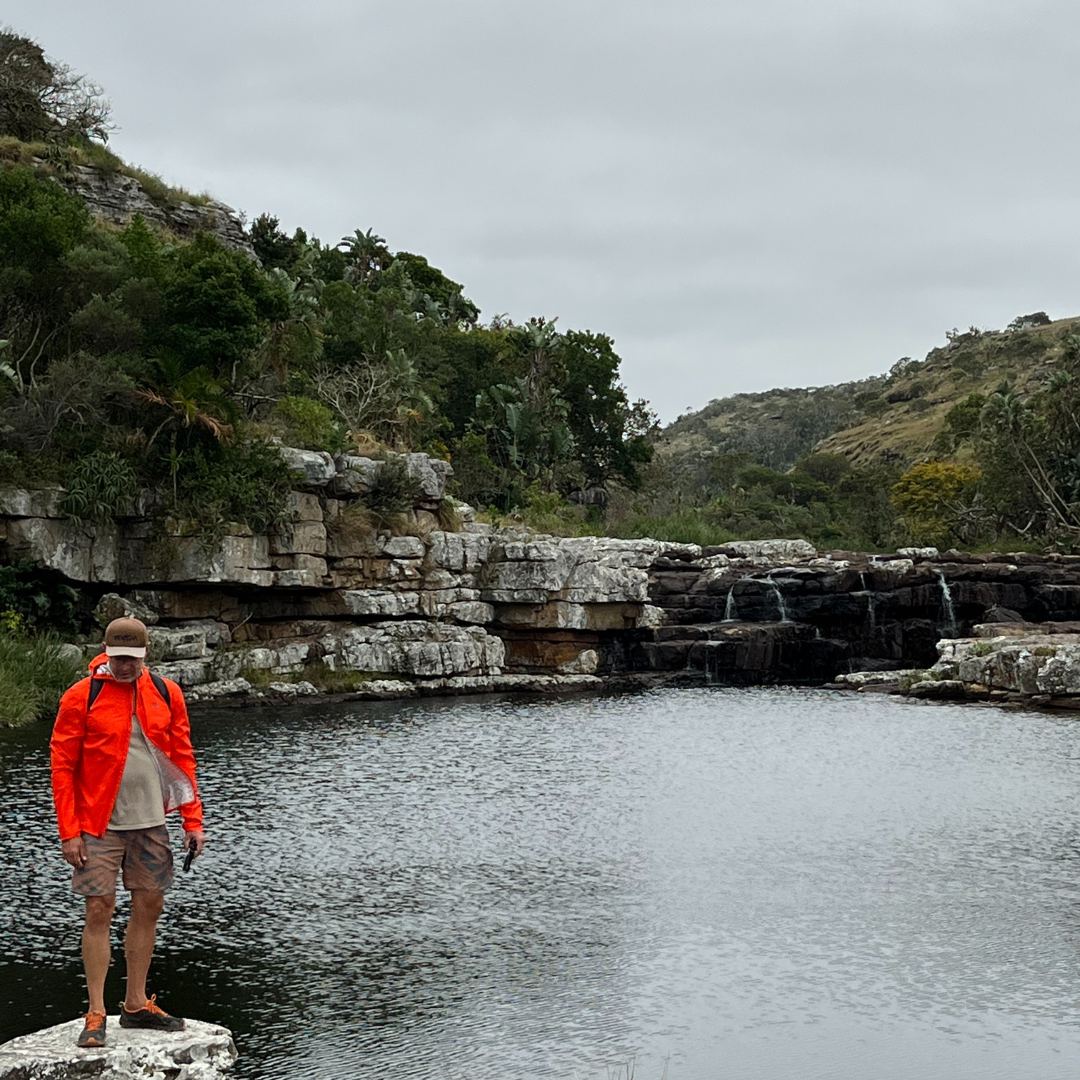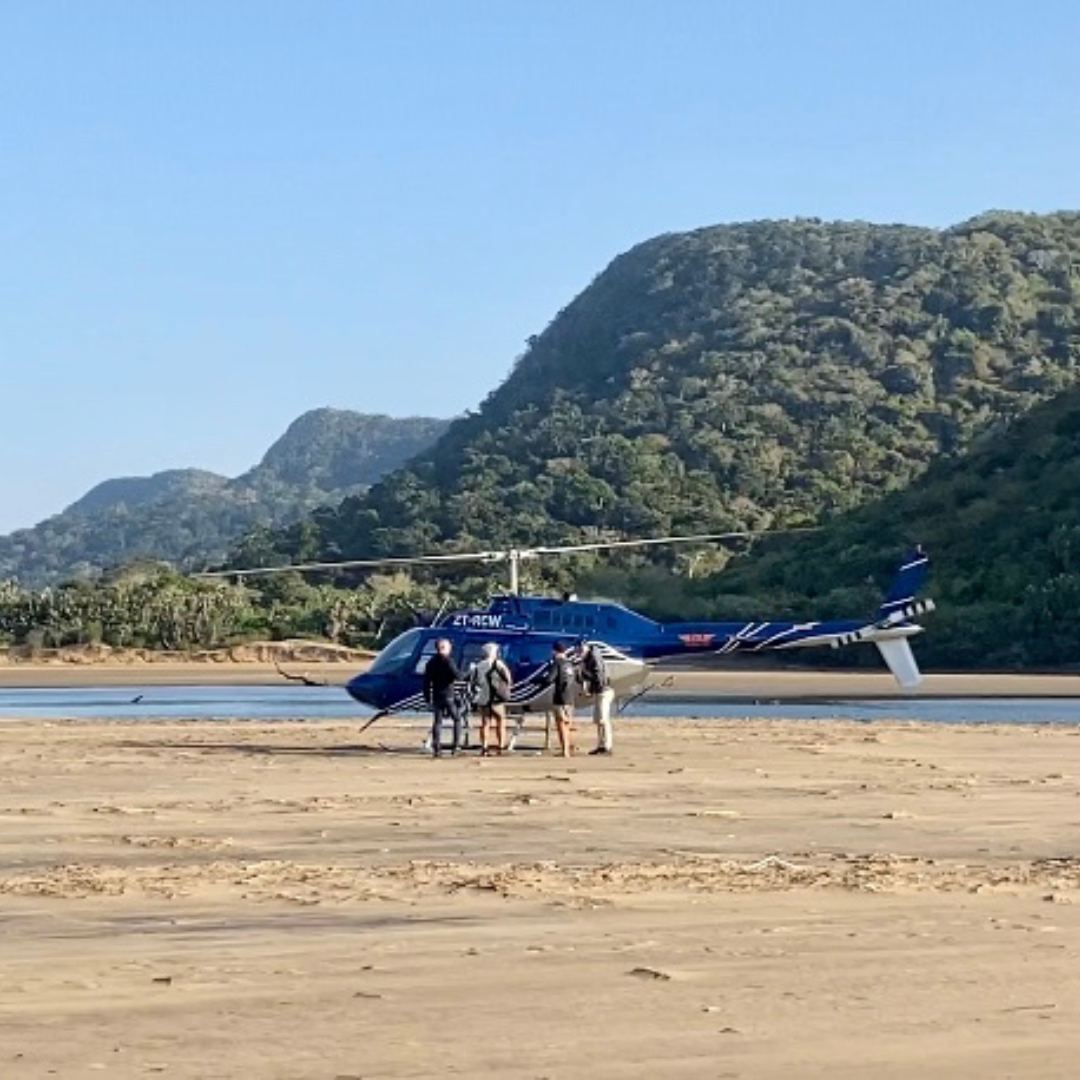 Want to join the next Pondo Trail Hike?
Book a FREE 30-minute consultation with German – for the perfect advice on where to stay, what to do, and how to get the best out of your travels.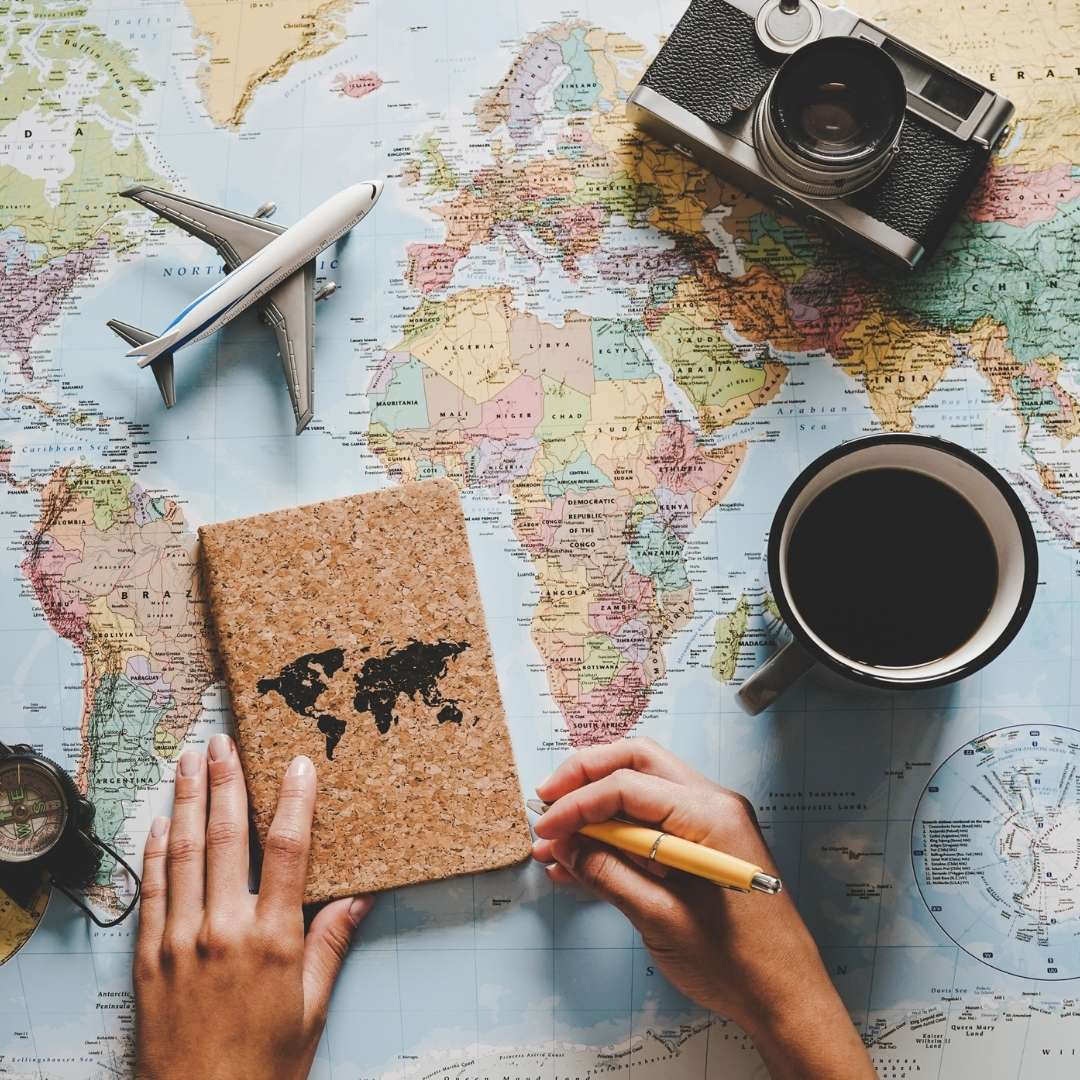 Pondo Trail Video Journal
xavier gordillo
2023-05-20
Espectaculares vistas y paisajes de Sudáfrica. Un fantástico descanso en la naturaleza. Muy recomendable el servicio de Nanan Travel.
Vanessa Mazzucchelli
2023-05-20
Espectacular el safari!!! Gracias Nanan Travel .. super recomendable.
Rodrigo Rivera
2023-05-10
Gracias German por todo el soporte antes, durante y despues de todo el viaje. Fuiste clave para tener una luna de miel SOÑADA. Empezando por la tremenda ruta Nyota en Africa y terminando con Malvidas. Excelente eleccion. Tu soporte y compañia durante todo el viaje nos dio la tranquilidad de poder disfrutarlo como se debe. Gracias!!
Manuela Duharte Clever
2023-05-03
todo excelente. la atencion y la cercania de German con nosotros hizo todo mas facil. la seleccion de la ruta Nyota en Africa y los hoteles fue muy buena eleccion. terminar con Maldivas para descansar, mejor todavia. Gracias German!!
German was a huge help with planning our trip to SA. He booked us a two-day guide for our time in Cape Town, who was incredible, plus German organised our unforgettable safari at Kariega Game Reserve. He took care of everything, plus gave us some valuable advice on where to stay too. Wouldn't hesitate to recommend!
Drew Kirkbride
2023-04-05
Germain guided us wonderfully through South Africa. When we first booked, he found plenty of alternatives to create a more authentic experience considering the needs and desires of the group. The hotel options were top notch, especially staying at Kitara Last World and the driver her uses for Cape Town and Stellenbosch was prompt, consistent, never rushed, and handles the group. A highlight was the sunset boat tour Private to our group. Only recommendation for change might have been pre-scheduling some of the wineries or finding some boutique options, though this did not change our experience.
German from Nanan Travel organized the perfect South African birthday celebration for me and my friends. From beginning to end the trip was flawless. Drivers were organized for all transfers and day trips. The accommodations were impeccably beautiful! Everything about the safari was astounding! German's restaurant and vineyard recommendations were outstanding! This trip exceeded our expectations! I will definitely be booking future travel plans with German.
We had a fabulous and seamless experience using Nanan Travel. He helped arrange our Safari experience at Kariega Game Reserve, including transportation to/from. He was attentive, quick to respond despite a huge time change between SA and North Carolina, USA, and helpful even with suggestions for Cape Town/Stellenbosch/Franschhoek. I would highly recommend!
German pulled together and incredible itinerary for us! His fantastic recommendations during our entire trip, great lodging, attention to detail, and personalized service made this a truly unforgettable vacation!
Rafael Balaguer
2023-01-26
There's a certain ease and excitement when you don't have to worry about the rest of your trip living up to an incredible yesterday, because today and tomorrow are going to be EVEN BETTER. That's what you can expect from a South African trip planned by Nanan Travel. Just when you think it can't get better, it does. German planned every detail, so we didn't have to worry about a thing. Excursions were varied and executed flawlessly. Transfers between properties were seamless and hassle-free. And check-ins were actually fun and some of my favorite moments. Our trip had a perfect pace of relaxation, sightseeing, adventure, and surprises. It took us off the beaten path (literally) one day and 10 feet from a lion's mouth the next. I arrived home after nearly 3 weeks with a full heart and memories I will never forget. Thank you, German, for helping to make my first time in South Africa so unforgettable.